Ever since I came to Lietuva, I heard about Trakai, A Small town with a Castle. surrounded by water and amazing forest and so I wanted to see it from that point forth. Although I wanted to go there before, eventually it failed ery timez Cuz I was hoping to go with someone I met in Vilnius, I Figured. going there with A local would be far more fun and interesting due to the history they can tell rather then solo checking. After 3 months in Lietuva, and failed attempts. I figured Fuck it, Today I will go Trakai. Whether someone is in or not.
The night before Ausra happen to give me a call, and so luck was on my side again. She was in for some Trakai chillin! I picked her up late next morning N we headed to Trakai. We both didn't really take breakfast. We decided to take some Delicious Kibinai for Breakfast/Brunch.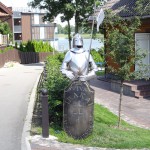 Kibinai originates from Trakai, so the best place to eat it was also located in Trakai. We parked the car somewhere outside to avoid parking costs and walked towards the most famous Kibinai place, The road was nice. First there is this small town. nothing special actually besides the fact that it is surrounded by lakes. At some point we crossed a market, I'm always curious for dem market so our route went though dem market. After a while we walked next to water. But I was so focused on the market stalls that i didn't even notice that if i would just look the other side, i could see da Amazing Trakai Castle :))) eventually I did :))).
We were both pretty hungry so after the market delay and da first glimpse of da Castle we went straight for the Kibinai place which was not so far actually. I tried lots of types of Kibinai already in Vilnius, This time, it was time for some professional Kibinai Tasting!
Da Kibinai were so delicious, its not normal. I cannot find a word to describe it except for…. Osnapazizzle Delicimanizzle… The Gira (Kvass) was also home made by the restaurant and super delicious. (for those who don't know what Kvass is. In a Nutshell its a Drink made from fermented bread) we took our time and chilled at the restaurant for a while. The Kibinai filled us so much, it was hard to make the decision to start walking again. (In the end we didn't eat anything all day, Not even dinner. Diz Kibinai dish is so amazing. it fed us enough to live da rest of da day on it) eventually we headed to da Castle. Time to see it up close!
First we walked around it, and through the old Canal in between it. checking the environment and inspecting the castle. Eventually we checked inside. Its a rather small castle and lots of people told me it was not worth to pay for the entrance. When i checked the map it seemed they also had an Archery range, I always liked Archery. Never actually practiced it. so i figured. This is my chance!!! Ausra as awesome as she is, managed to get free entrance to the castle for both of us. But only if we headed straight to the archery range to shoot some bows. Of course we agreed and could enter the castle for free, on our way to dem Archery funzyy!
Basically you could buy arrows shots for a vew litas, and you were able to shoot both the Longbow and da Crossbow. There were not so much people, so we decided to have a little match, We started with shooting the longbow. I managed to get 2 arrows (out of 6) in the middle. the rest were a bit on the edge. Ausra gheghe. most of her arrows didn't even hit the Target. she was having some trouble with Aiming the bow and also stretching it. (FYI We were both trying it for the first time eh)
Afterwards we tried da crossbow. in my opinion the crossbow was a bit Easy. with the Longbow there is still some Skill required to actually hit something. But with the crossbow. once you knew how much you should aim above your target. you basically just hold your breath. Aim and shoot. It wasn't that hard. But in any way it was Fun! And it was really nice to finally feel the difference between the two. apparently we could walk to the targets and make a picture. I didn't do this with the Bows (you will probably laugh anywayz) But I did take a picture of our Crossbow match. Much Phunz were had!
Ausra loves rowing da boat, And the lakes around Trakai are perfect for that. so after shooting some bows we went to find someone that rented some Classic Wooden Rowboats. for we didn't like the Dolphin water bicycles or the plastic rowboats. we wanted a Real wooden one! We found a wooden Rastafarian Rowboat and started scouting the lakes of Trakai. (of course we had planned something before and bought some beers for maximum chillin somewhere on the lake). Basically the first hour Ausra rowed da boat, we had a little Race VS a Duck and went around da Castle. afterwards we went to some small Reed island where we chilled for a while and drank sum beers. it was very Zen. She wanted to row it also the Second hour. But the fact is. I Nevah rowed a boat before. Atleast not that I can remember So at some point I was like. Move Ausra!! Ima learn to Row! And its not that Difficult actually. Of course I had to get the feeling a bit. but once I got it things went pretty smooth. and it wasn't tiring or heavy at all (as I actually expected)
After rowing da boat and returning to shore, It was just before dinnertime. But hungriez was no where to be found. Via a Couchsurfer i got a recommendation to check out a protected Nature area, Although she also recommended to Bike it. we tried to find it by foot. It took a while to get there "on foot" and we spended another view hours walking through amazing Swampy Pineforesty scenery. I didn't take any pictures because i really liked it and didn't really care to. you should probably visit it yourself sometime if you will be in Trakai. I think we arrived back in Vilnius around 22:00. And we were very tired from all the walking and rowing and the amazing day.
That night we spend on the Balcony with Sarune. Drinking Shit loads of beers. Basically we had a Beer tasting evening. All of the sudden Ausra randomly took a CD from her collection, she was like, we should listen to this. It was Doe Maar Greatest Hits :))) You can probably not imagine how amazed I was. cuz dem be crazy! The whole evening for me, Chillin in Lithuanian, With some Lithuanian Ladies, Drinking shit loads of beer and listening to Doe Maar :))))) It was a great experience for me and could have never expected it at all. Her favorite song be like Nederwiet. funny thing was that she had no idea it was about weed and when I started translating other song like they were amazed that this popular dutch music from back then was about love,weed,sex, n crazy shizzle.
It was a good day, Completely different then previous years. I did get a little Nostalgic for my friends at some moments, Usually I open my house. Invite dem all. Get some DJ Gear up. Get supah High n do some Drinking Games. But most of all tell them not to bring anything except there smile. Then allot of crazy things happen. But well, Things Change. Now i'm in Lithuania, Living a completely different live, made new friends. who I will not see for a while once I start to continue on my journey like dem back in NL. Its the way it isz at the moment. But thanks To Ausra, and ofc Sarune. I had a 23d O July I will nevah forget. Aciu Labai,
maybe you will have to learn dutch first. but basically this is a Pro tutorial on how to grow n harvest yo weedzels je weet toch.