Last week was very fun! We all Tuned into da Izreal Vibes. build a Mongolian Yurt and the amazing weekend in Vilnius.
Buts its Monday again! Work haz to be done. To bad the weather was not with us. A heavy northern wind hit us. Northern winds are Strong and cold. So basically Monday we stayed inside all day. and chilled a bit. (this was great for me) because I managed to get my blog up to date. As far as I remember I spend most of Monday hitting the keyboardz and adding pages to my book! Tuesday was the same, the weather was not with us. Rain hit us. Not much work was done this day. I cant recall any specific things we did except for. not much.
Then Wednesday arrived. its the 7th of May. Now things started to get extra fun!
The house still haz allot of walls that needs to get finished. Basically they are filled with isolation (straw/clay mix) but still need a vew layers of Erthn Plaster to finish them.
Basz started to teach me the tricks of the trade: Mixing Erthn Plaster.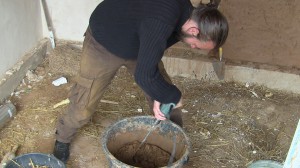 First I had to learn the mixture he uses to smear on the walls. Its like mixing cement, but now we don't use ready to go Bagz of cement and water.
We use a mix of Clay, Sand, Straw n water.
You should think of 1/3 where 1 shovel of Clay, needs 3 Shovels of Sand. Add enough straw n water, then mix it. To check if the mixture is good you make a ball of it, if it sticks to your hand if you keep it Open-ish. It's fine. If it drops. It's not. When you do the first layer which you have to push deep into the Isolation. Its sometimes better to add a bit more water for EZ Smearyness. Its not that hard actually, Honestly I think this Erthn Plaster works Way WAy WAY better then cement. Don't forget! the surface you are gonna Smear needs to be Wet, if its not, it will not stick. So we spray it with water before we start duuh
After Basz explained me the mixture, He just let me do my thang. I have little experience with plastering. but due to the EZness of this shit. I got the hang of it pretty fast.
The first layers you push deep into the clay, on top will come another layer of clay which you can smooth out. On top of that will come the Lime plaster thingy but we didn't get to that part yet. for now its just Clay.
Of course when you finished your first clay wall and its still FRESH the cat comes to take a look. Thnx James, your paw prints were very artzies. I'm not sure if Basz removed them or if they are still actually present in the wall. tbh i hope so :D i didn't do anything about them gheghe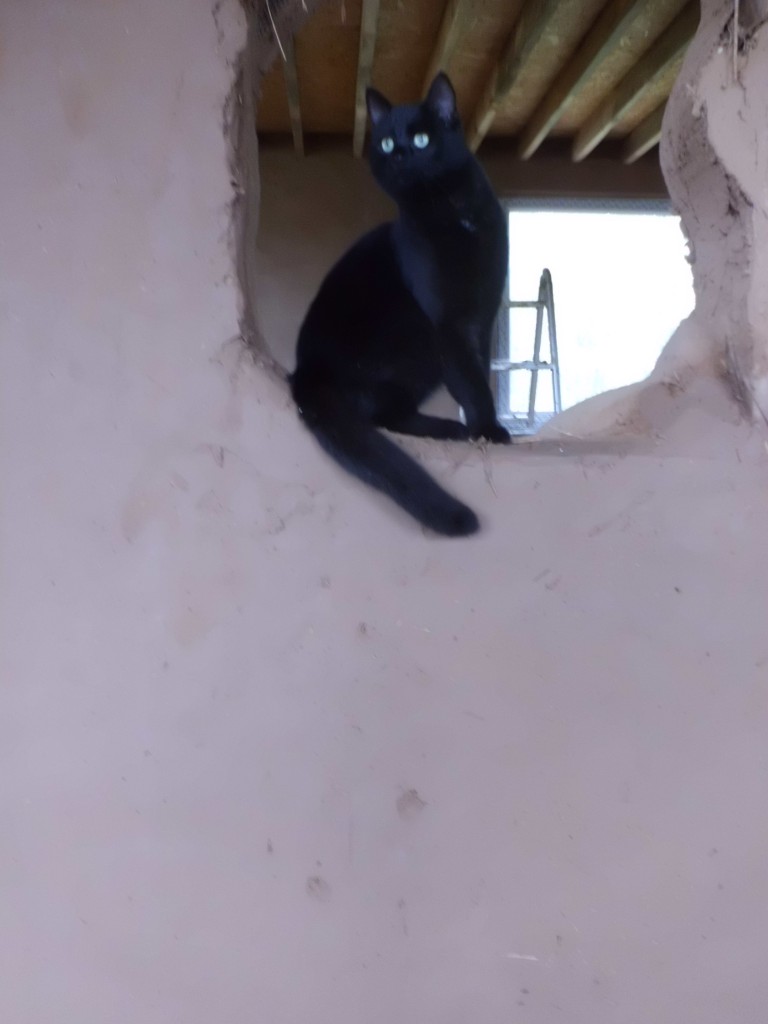 But there R moar people that can Clay. So when he told me the tricks of the trade, he didn't feel like telling the rest of the Ego village residence. Basically I had to explain them what I just learned. this was eazyr then expected. After the introduction we started filling up walls like Madmanz
To give you an example of the different layers.
isolation, Erthn Plaster pushed in it. Erthn Plaster to add thickness and smoothness. then Limeshizzle for finish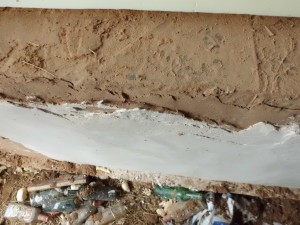 No the bottles are not trash, they will eventually be used to make psychedelic windows you digg ? You might also be thinking. Where do you get all this clay from? Well we dig it up of course. But its not like you get a shovel and dig up some clay. it haz rules and thing to consider. I'm thinking about making a Resources page. but for now ill just explain you how we dig up the clay we use to smear on the walls.
When you dig up the clay you have to make sure you don't get to much sand or vegetation in your clay. The first step for claydigging is to remove the top layer of da Erth, the layer that haz the grass, plants and roots in it. Once you removed the organic top layer of da Erth, you have to keep going until you hit the right clay. Some clay is very sandy. This is not the right clay, you need to have the right type of clay with lots o moist n awesomeness.
Once you removed the top layer and found the right clay and removed most of the dirt, you can start choppin of peaces of the clay. Which we then shovel into a wheelbarrow, we fill the wheelbarrow full of clay with water so the clay gets more moist. Then we can use it in the mix.
So Wednesday we were working on the walls, we did this also on Thursday. It was still rather rainy, luckily we were able to work on the inside walls of the house. Friday the weather got better. Lots better. We had rainz at night but Sun at day and not much wind, sometimes a lil drop here n there, but then we would just chill a bit until the Heavy rain stopped. Peter n Bart were working on the outside walls. Chris n Karin in the garden. what Basz was doing is not important really.
Me though. I had a new task. I Started on a Workbench in the shed. basically all the tools are all over the place. This workbench will make it easy to store tools, also when the workbench is done. I can probably start to "actually make some furniture" because this haven't been the case yet until (Saturday)
To give you an idea of how the workbench is doing, it looks like this at the moment.
Not much to say here. you will see more of it sooner or later!
Saturday while I was working on the workbench, Chris came to me with a question.
she wanted a lil Kitchen thingy for in the Yurt so she could do the dishes in the Yurt instead of walking all the way to the house. Chris told me her idea and we started fabricating some kitchenthingy. it was rather fun, and things went pretty fast.
I still have to get used to the way things work here. I'm used to stationary machines Unobro. Everything as perfect as possible. Here things are crazy, nothing is perfect and I have minimum tools to do what I have to do. luckily everything went fine. Although I felt like a Retard finishing this Kitchen thingy. Chris was very happy with it and enjoyed it very much that night doing her first dishes inside the yurt.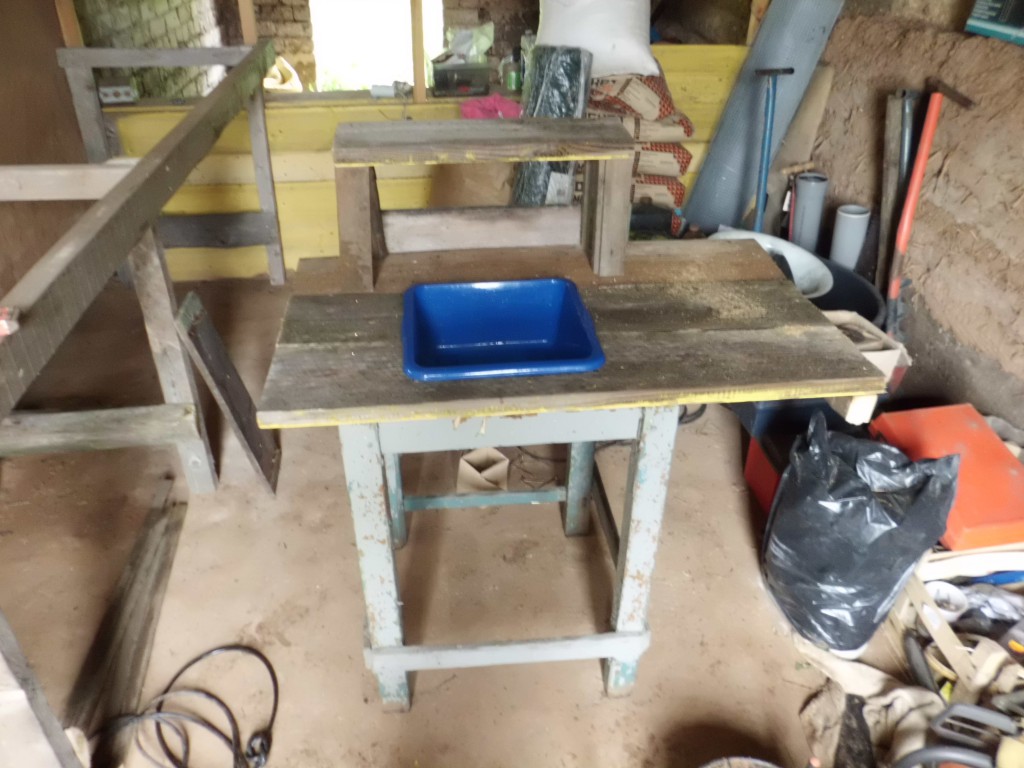 So this week in a nutshell. Monday n Tuesday was hardcore chillin. Wednesday and Thursday we learned how to mix Erthn Plaster n how to Smear on the walls, I learned how to gather clay from the ground around the property. Friday I started on the workbench and Saturday I was working on the workbench n kitchenthingy.
It was a nice week again!, cant wait to see whats be happening next week. Also the 17th is some crazy Street music Day in Vilnius which I'm gonna check out fo sho! Imagine Live Music everywhere in the streetsz to check out for free.
tomorrow is the great unknown!!