I don't have much to add to da Blog these dayZ now I'm up to date n Clayying Eryday! But I feel like writing anywayz. So ill just tell you about the Awesome day I had today. Because I did not expect to be playing da Tourist, I didn't bring my camera. Which is to bad for you all, but ill try to give you as much of an impression I can with the use of gQQgle…. n the very limited thing called Language.
It all started with me searching for a particular type of Trousers. During the African Drum evening i got into contact with someone who knew a lady in Vilnius that sells them, you can check out her Online Website to get an idea of what type of clothing i was searching for.
Due to the fact that Karin had to be brought to the airport this morning at 06:00 I contacted Esoteric.lt to ask if i could come visit her to check out her merchandise. This was all cool. So I joined Basz n Karin to the airport.
We woke up at 05:00, drove to the airport, Dropped of Karin. Of course I asked Basz to be a nice dude and drop me off somewhere close to my meeting point, I had in mind to check out where I should be. and then take a nap in the park somewhere due to the fact that 06 was a bit to early and the hour of 10:00 was better for her to meet.
Luckily Basz is a very nice dude, to explain why. The address I had my appointment is located in the Orange Circle. Basz dropped me of in the Green Circle…… Thnx Bro!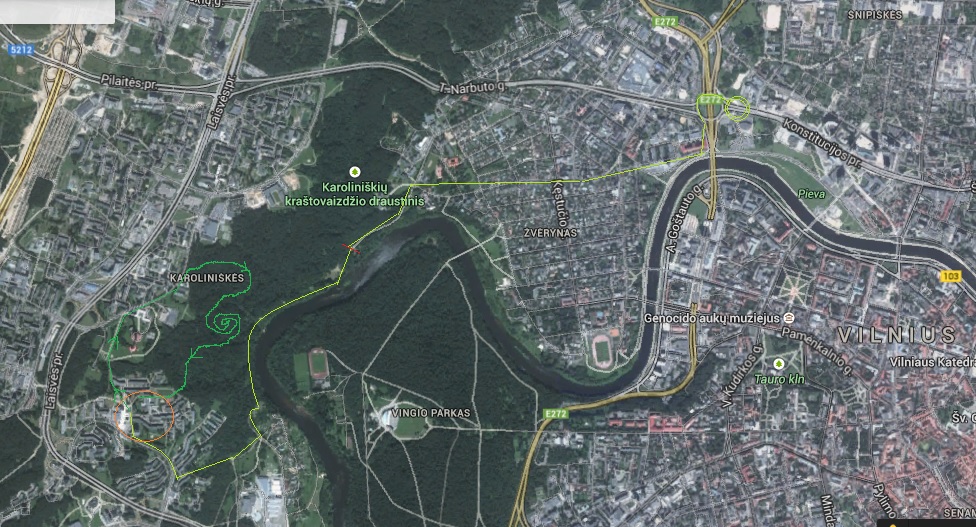 I bet you haz an idea now, of the story I'm gonna tell you today?
My Adventure into West Vilnius!
Luckily I like walking, Basz dropped me of in the Green circle around 06:15, although I had my map and used it now n then. I tried to navigate as much without it. To do this I first went towards the river The Neris, from there I started to walk West. I went straight through the district Žvėrynas, at the end of the district was this park-ish thing. I was aware of the fact that there was this huge nature area in between Žvėrynas and the address I had my appointment at 10 o clockz. At first I didn't know for sure if there would be paths to walk. but it seemed so. So I headed straight in towards the Red Line.
(I am currently walking the light green line towards the Orange Circle)
This is where things became more Adventurous, Imagine its between 06:30/07:00 in the morning. your walking over a pathway through amazing Forrest and hills. when eventually the path stops(Da Red Line). Because I didn't know for sure if the Forrest had paths, I decided to walk the River-Bank of the Neris,
Yup. I went totally off road, Basically I was walking with 1 feet in the Neris water and 1 feet on Solid Forestry-Sand-soil gheghe. I would love to show you pictures of this very beautiful landscape and river views i saw. but the best i can do for now is to give you this picture from Da gQQglez to give you an idea.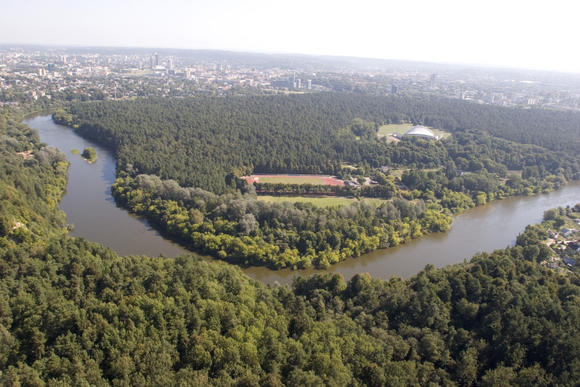 (For those who still don't exactly understand how i walked.)
(I Started somewhere in the city on the top left of this picture, Headed into the Forrest on the Left of the picture and Followed the Neris towards the houses you can see on the Bottom right of the picture, Where i headed into "Civilized Area" again)
I really enjoyed the walk, close after the Red Line I encountered a Fisherdude who was solo trying to catch sum fish. The rest of the walk I did not Encounter any Humanoid beings, Only Birds, Insects, Fish, Unknown things and did I mention Birds? Lots of Birdszies!!! Also HUGE Snails!
I arrived at the meeting point around 08:00, Dangz. still 2 hours to go until I could check out the awesome Merchandise. also that plan I had to take a sweet nap somewhere in the Forrest was not really going to happen. I was wide awake and aware, so I just started walking into a random direction and ended up at the TV Transmitting antenna of Vilnius, from here back into the woods. (I am now walking the Dark Green line)
Meanwhile entering the woods, I really gotta take a poop lulz. But no toilet paperz and no bathroom nearby. to bad eh. well fuck dat shit. I gathered some leaves (I think it were Oak and Birch leaves) and did my thang, ffffeeeuwww, What a relieve!!
I continue my Adventure, ended up high on top of a hill with a very nice view. I could see all over the park at the other side of the Neris, I could see the city in the close horizon, it was beautiful. (We are now at the Spiral) here on top of this hill/mountain as I prefer to call it, I sat for a while. Meditated and eventually went back to my meeting point in the Orange circle. Still walking the Green Line, Meanwhile I did not meet any Humanoids. only Wildlings
I Arrived around 09:30, a little bit to early indeed. I Went to the supermarket to buy something to eat and drink, I Accidentally bought bubble water….. that was not so nice. it Tasted Awe full n not so delicious. I gave it away and ate a banana instead.
Around 10:00 Ragganata joined me at the Meeting point, we went to her place, had a very nice chat, i told her the story of my Journey n Eco Village interests. She told me about the clothes she sells, (for example, She works together with communities in Nepal where she travels once in a while. They make most of the clothes by hand. She is the Fair Trader in between the "West" n Them). Things she does for a living, We shared some Festivals here in Lietuva where i will probably fit into. She even Invited me to join her, she will be giving Workshops and selling the Merchandise. We will see about that whenever the time comes near. But most Amazing of all, i have been trying to find Patched Jacked for a while now. Ragganata will see what she can do about that, and maybe she will Custom Make one for me later this year. AwwwwYeaaahhh!!
Around 12:00 we said our goodbyes, I will most certainly keep contact with her for some workshops n lots of other things i didn't include in today's story. but that doesn't really matter for yall anywayz. I headed towards the Central Train station, (you can check google maps if you curious how far my next walk was) Close to the Central station is a very nice Market, I had to get some fresh harvested honey there, after I headed into Vilnius Old Town to find me Moar needed things.
One of those was Kebabas Tun TUn TUNN!! there really Delicious here in Lietuva. Basically every time I head into Vilnius I try to get a Kebabas. so, so Delicious! It has less meat then in NL but lots moar fresh Veggies and then Drowned in Sausze!!
I was back home around 18:00, Thinking about delicious dinner, but we were both rather Apathetic to cook sum so we decided to Pizza instead. Blegh. We did some Groceries n grabbed a pizza for dinner. (Indeed, At the moment its just Me n Basz at da "Village")
Hopefully one day you will be in Vilnius walking through this area, I'm sure you will be Amazed. especially if you have been a City-slicker all yo live.