Finally the time haz come for me to share you my story about the Day/Night I went to check out da African Drumz concert, lets travel back in time,
" WWWOOOSHHH "
Its Saturday, da 3th of May.
I joined the Almerians who were heading to Vilnius to check out some stuff and visit the Ikea…. we arrived around 15:00. Because I Srsly was not in the mood to join them to Ikea. they dropped me off somewhere on the edge of the City center at a gasz station. I only had this small map of the Old town, and I had no idea where they dropped me off so I bought a map of all of Vilnius and asked the first dudes I came across if they could point me how to get to the old town. It was about a 30 min walk from the gasz station. While talking with the dudes some Police car came by, shouting things in Lithuanian, behind them some motorcycles, I asked them whatsup. They told me that it was the First day of the Motorcycle Season,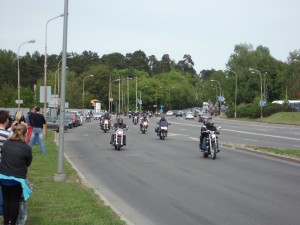 every year all the Bikermice cruise their bike on that day and they have like this "Police guided start" This was very nice. I stood there for a bit to check out all da Motorcycles, they were cruising in the opposite direction of where I had to walk. So eventually I started walking towards the old town. But to bad for me, I had to wait a bit more, simply because there were SO MUCH MOTORCYCLES, I think after like 10 maybe 15 minutes they had this lil break so people could cross and cars could go again.
When I was able to cross this street I ventured forth towards the old town, meanwhile I got hungriez, when I met this coffee stall I checked out there snacks. Bought a chocolate chip cookie that was bigger then my Face, and while I was there. I asked the locals behind the counter where I could find the Best Kebabas of Vilnius. Of course taste differs from peepz to peepz but the recommended me a Kebabas which was rather close, I headed to the Kebabas place, I can't recall the name but it was something hilarious like, Happy Kebabas. or something like that. I wish they had a place like this in the Netherlands. Because This!!!!!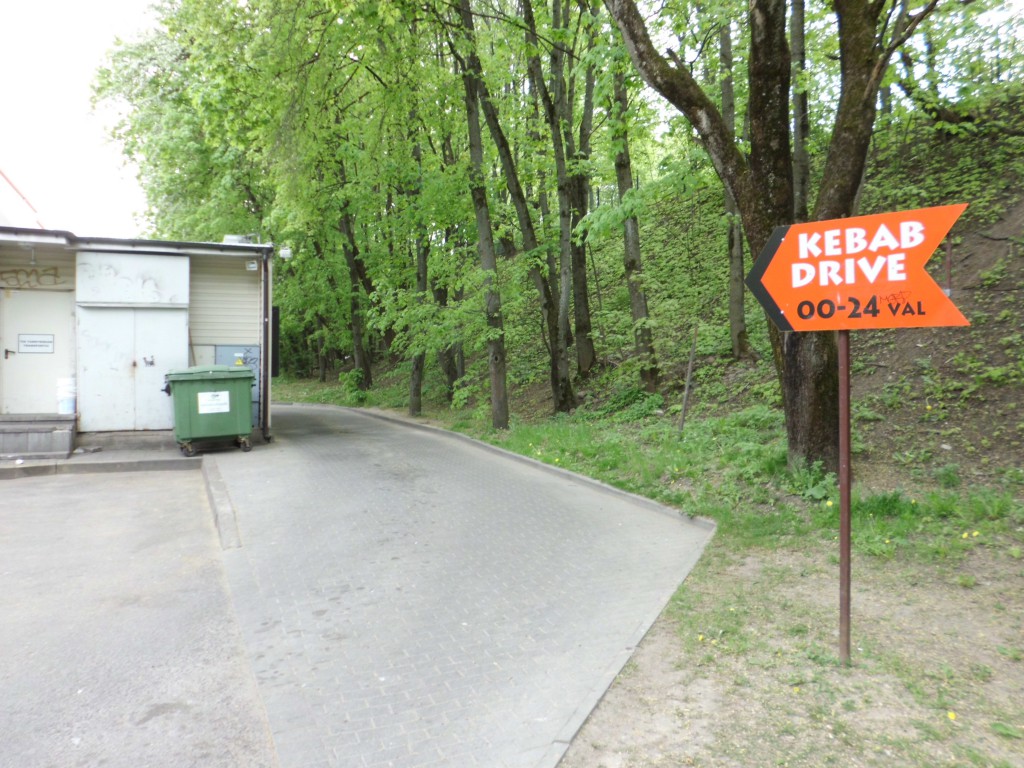 Crazzzzyyyy!!
Meanwhile scouting places in Vilnius I never walked before Enjoying the Indeed Most Delicious Kebabas i ate in Vilnius, I came across the first church that was not Amazingly Beautiful, well to be honest i liked it anywayz. But it was rather trashed. Non the less there were people inside doing there thing. The park next to it was rather chillin also, there was this dude playing guitar. I stood there for a while to finish the Mango drink I bought across the street. the Kebabas made me thirsty.
I ventured forth, and it seemed I was rather close to the Town hall and the Vilnius Gatve which I already knew from the last times I was in Vilnius, when walking around I came across a passage that I walked pass a vew times before when I had to go the the hostel I slept in the first night I arrived in Vilnius. This time though, I noticed something I didn't notice before, as some can imagine. I was rather amused :))
Tun . . TUn . . TUUUNNNN ………
I know, its probably not related at all, it has a completely different meaning then what you might expect of me, (for those who know me better) but still. the fact that I walked pass this building a vew times and never noticed it before. Made it extra fun for me at the time.
The concert was around 20:00, so I still had some spare time to fill, I just kept walking towards random things. and on the way I encountered things like this. (or you can just scroll down and skip to the evening if you lack da interest tzzzz)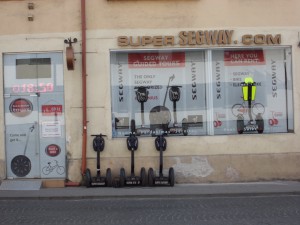 Indeed, you can rent a Segway here in Vilnius. I didn't try them yet because I like walking so much. But ill probably do it sometime before I will leave Lietuva, Although I was not able to picture them. The Police here also cruise around on the Segways. This confuses me though. How will you be able to catch a Criminal if you are cruising on yo Segway. They can just push you over or like jump over Vences n shortcuts. Segways can fly you know. I thought it was rather Un-Practical, but much funzies were had the moment i saw them cruise by.
I learned about the Erection of a bridge. next to the bridge were some Lithuanian words I couldn't read imprinted in the side of the river or whatever i should call it. I waited there for a bit to ask someone if they could tell me what it means. As usual coincidence doesn't exist, I belief this because not much later a group of ladies walked by, and they all had these Hearts with Text on them, so i figured they would know the answer for sure. One of the girls was getting married and they were doing there bachelor party walk through Vilnius thingy. They explained me the text meant I love you to, and As myliu …. (you) is i love you, very confusing but nice to know.
Because the green bridge I just crossed was heading me towards North, and Artistai (the bar where the Djembe concert would be) was rather more south, I walked back the same way I came. On the way back I noticed this little store selling cakez n stuff. I couldn't resist to try and it was the most amazing sweet bread snack i ever ate.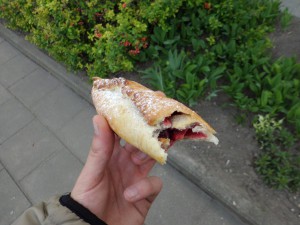 the story behind them is something like this. There is this Castle/town called Trakai, where these bread originally come from. They were only made there, then someday they started selling them in Vilnius. At first they were with meats in it. like chicken or pork, but of course for peepz like me, they later made them with Strawberry/Cherry/Apple cinnamon filling and lots more.
Daangzz they are so delicious! I'm gonna try them all eventually!
Artistai was a 5 min walk from the Town Hall, I arrived at the town hall a little more then a hour before 20:00 so when I encountered a Fountain at the Town hall Square (not so big as in Warszawa) I chilled with her for a while, Waiting till i could head to Artistai. I headed to Artistai 30 minutes before 20:00 to see if the group arrived already, Of course they did. I didn't wanna be lame and stalk them while they did there Sound-check so I chilled outside until they started. Luckily Ruta n Kamile joined me for a smoke a little while. They also introduced me to another member of the Group Agne. While they were all busy with preparing, Agne had some spare time apparently. She joined me for a chat, Agne works for the G0verment "spooky sounds" but besides that. she had some very Amusing stories to tell.
/\//\//\//\//\//\//\//\//\//\//\//\//\//\//\//\//\//\//\//\//\//\//\//\//\//\/\
It started to get dark slowly, and the bar started to get crowded.
"Drum Roll" ITS TIME, For Vakarų Afrikos būgnų mokykla "Ba Dum Tsss"
The Concert Started, The leader dude called Gediminas (like the legend) started to do his story, he talked in Lithuanian so i couldn't understand, but that didn't bother me. Basically the group is pretty big, some of them are rather new, some of them are very Experienced,
They started with a little intro with more experienced players, then every song the players on the stage would switch their instruments, And if i understood correctly, The newer players of the group started with the first vew songs, and eventually the more experience players would play the more complicated beats i gues,
What i really liked about Gediminas was his way of communicating with the group. He like guided them through the songs (of course they studied them) But you could see the group relying on his guidance, he has some very interesting Gestures and uses his hands to tell certain people of the group to either play louder or or softer and so on. He talked in between the songs. Also what was very, very interesting is the way he tried to Involve the audience in the Gig. For example with telling us (the audience) to clap a certain rhythm within a song and sometimes even he asked us to sing with him. It was amazing. I could really feel the energiez he tried to awaken, n the flow through the instruments and the people. I got in this sort of trance like whooow what is going on here. what is happening to me. what am i feeling. this is amazing! they were very very nice. and the way the played the Djembe, switched n involved the Audience and everything together was an amazing way to do it!
The pictures above will give you an impression of how the people changed over the different songs, and how the instruments changed. You might thing what the dude is playing on the 6th picture. Its a hollow Pumpkin. and he was like making beats on it, very simple but very awesome! This apparently was also a Favorite song of allot of people in the room gheghe, Including my host for the night (but that's a bit ahead of the story)
At the end of the evening. the most amazing thing happens, They started to give shit loads of Djembes to the Audience, and Gediminas gave this very little Djembe lesson, To explain: He showed this beat the Audience should play, then they would play there song over it. He really tried to Involve the Audience throughout the evening. It was amazing! It went pretty well in my opinion, I still couldn't understand what he was saying but i played Djembe a vew times a long time ago. So i just watched what he did, and eventually i could figure it out. I really enjoyed playing the Djembe that night. I also had this Nostalgic moment where i missed my Shaman drum, and also playing my beloved Drum Kit. But the playing of the Djembe and making some beats was nice and a really perfect Finisher for the concert!
After the Djembe lesson and the Songs we played together The concert ended. I didn't have a place to sleep yet, a problem i had to fix. but it was Saturday night n Luckily I was able to join the group for the rest of the night, First we chilled a bit at Artistai, of course we ate some Kepta Douna n took some beers. I was lucky once again. Ruta helped me to ask around the group if there was someone that could offer me a place to sleep. The lady who made the Pictures is a trusted Couch-surfer, and that night her roommate was away for the weekend. She invited me to stay at her place if it was for 1 night. Which was perfect for me! Now with a save place to sleep and not having to worry about taking a Bench in a park, This very comfortable feeling rushed through my body. I was able to clear my mind easier. No worriez, About no thingzzz!! Just chillin with da Djembe peepz!
So after da Gigz, the Kepta Douna, a beer, N a couch for me to sleep, the group got hungriez. They decided to grab a pizza nearby. I felt like pizza also and I was welcome to join them. So of course I did! we chilled for a while at the pizza place, in the end we ordered around 6 different type of this size pizzas. They were very Delicious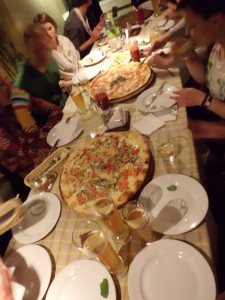 I was able to get to know my Host for the night,
Her name is Ausra, She also has a very good Talent for Laughter, she also laughs Very loud which it think is amazingly funny (much later she also told me that sometimes in Public transport. people complaint about her laugh, Because its so Specific and loud) Lame right, how can you complain if someone laughs. this is also when I got to know about the Iron wolf Legend deu to Kamile her necklace. It got pretty late that night, After the pizza a vew of the group went for another drink. But me n Ausra were rather Tired, also she haz Exams soon n she had to study the next morning so we decided to start walking to her place, which was about 20 minutes. The walk was fun, we passed the Segway place, the place where I bought the delicious sweet bread snack, n then we had to cross the Green bridge, heading bit more north into the district up there. Ausra is Studying Medicine and will specialize in Psychology next year, She also Hitchhiked allot, and Climbed mountains n crazy things! We chilled at her place for a while to get to know each other a bit more, the next morning she cooked me some Omlett-ish breakfast n when she went for the Library i walked towards the Central station to take the bus back home.
Due to the good time we had, Ausra basically told me that I could come back Anytime to crash at her place. Which was very awesome, because I was pretty sure I would be visiting Vilnius more often, Basically I don't have to worry about a place to sleep anymore, anytime I want to go to Vilnius. Ill just gieb Ausra a call. n I'm welcome to stay. Yay!
In the end. I'm really glad I met Ruta the day I arrived in Vilnius, Through her I got to know Kamile and their awesome happiness, And through them I got to know about there African Drum group they play in which I also like very much. And if it wasn't for this night at Artistai, I wouldn't have met Ausra, who will be my Vilnius host for as long as she will live in Vilnius wooop wooop!. And we shouldn't forget Agne, which i spoke to just a little at Artistai, but in the future I will get to know her better also. and she told me more about the N@to stuff n gave me a tour da Vilnius (U can read alboutdiz here)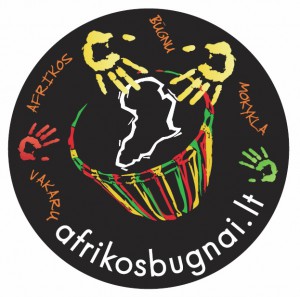 If you are interested in the African Drumz group Vakarų Afrikos būgnų mokykla

You should check out there Website! Although I think its not in English. if you hit the compas with "Vakarėliai !" next to it, you can find some movies n hear their beatsz!!
Or here some movieezzz, it shows what i mean with the way Gediminas communicates and uses hand gestures and involves the croud u get da point!