After getting to know each other a bit more and tuning in to the IzReal Vibeez. Monday arrived, Its 28th of da aprilz!. We made so much plans yesterday, and lots of ideas what will happen this week. But things here are not plan-able, because Monday morning everything was different then expected. So we just started with doing the things we had to do. I can go into detail, for example going to Moletai buy some random shit. but i will try my best to skip the boring shizznit.
A Yurt had to be build! Awww Yeaahh!!
Imagine we are sleeping in the house with 5 ppl now, The Yurt will be for for the Almerian couple, they will stay here till august or something like that.
As you might have noticed, the ground is not exactly flat here in Lietuva. First we set the priority to building a platform for the Yurt. This is where i come in handy, for those who don't know. One of my Alter Egoz is Cabinet maker//Woodworker.
We took some wooden beams, Basz walked in front, at some random place we started leveling the Beams using logs, We had to make a platform with a width of 6x6meters.
this was also the diameter of the yurt +/-.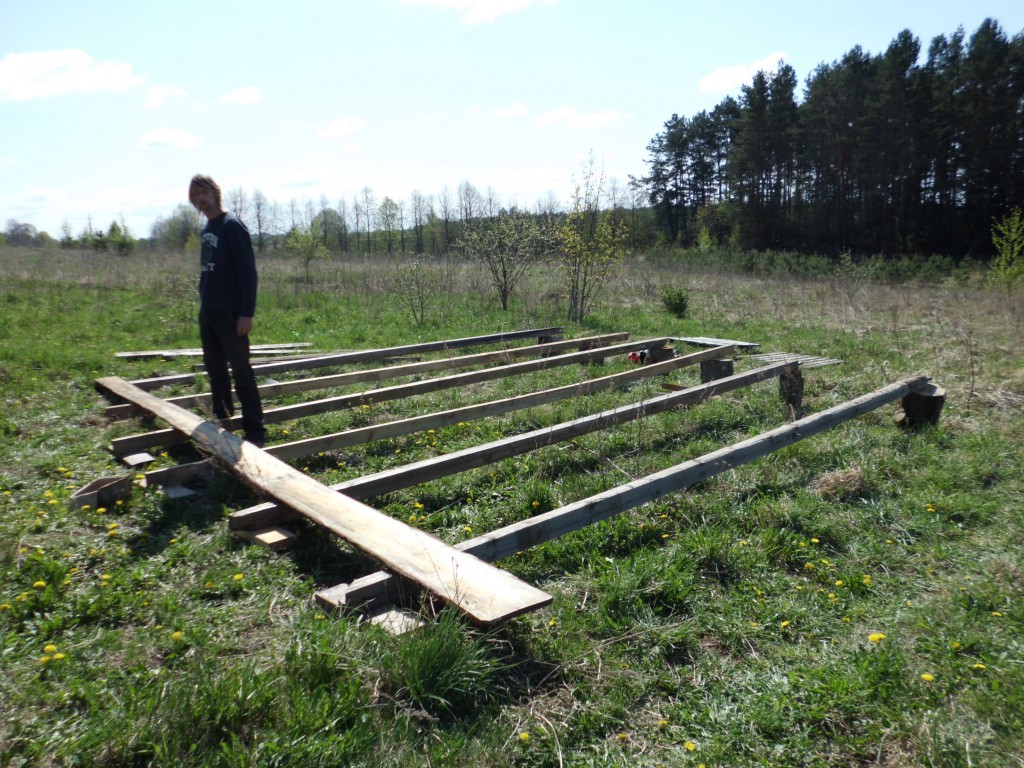 Meanwhile Basz was leveling the Beams, me n Bart were busy finding wooden planks for the first layer, because the first layer was for strength, we didn't have to saw much planks yet. The top layer had to be perfect so no ankles can be broken when walking over it.
After finishing the first layer, we worked enough for the day, we got distracted on doing allot of other things like. laughing, getting to know each other a bit more, thinking what we will have for dinner. and of course some tea.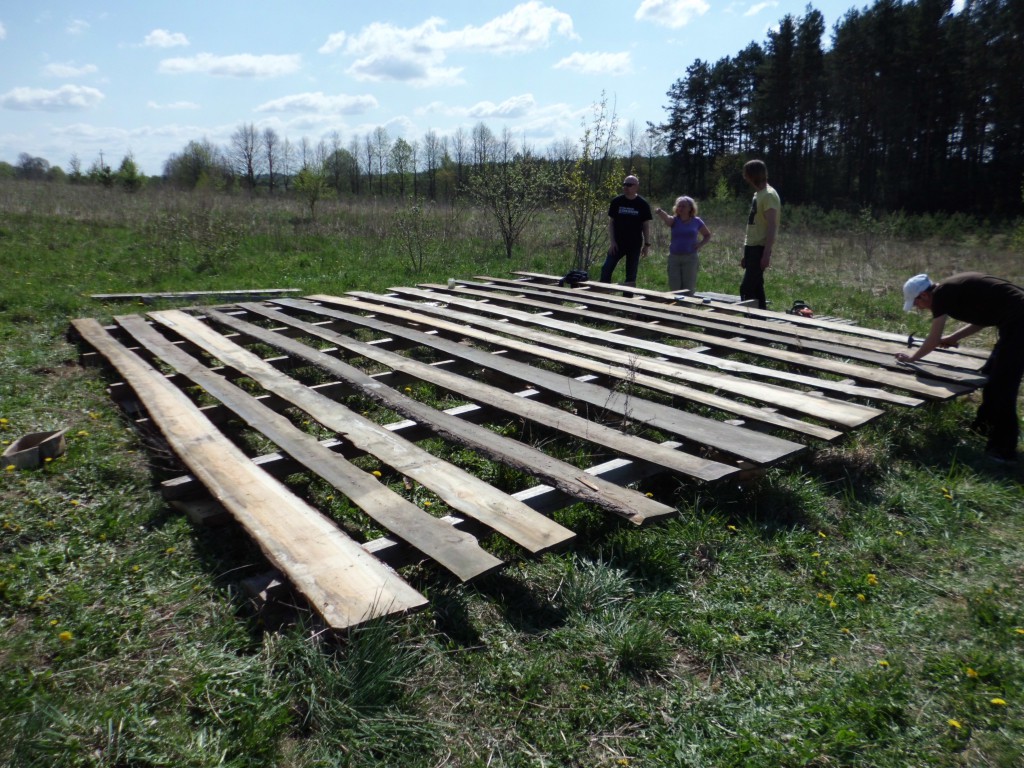 The next day we "planned" to finish the top layer so we could start on the Yurt soon.
We were busy all day finding nice wooden boards that fit. Here n there, Me n sometimes Bart had to saw off some node's n curves to make the boards fit. They did not have to fit perfectly, but the gap should at least be small enough so no ankles can be broken stepping on it wrongly.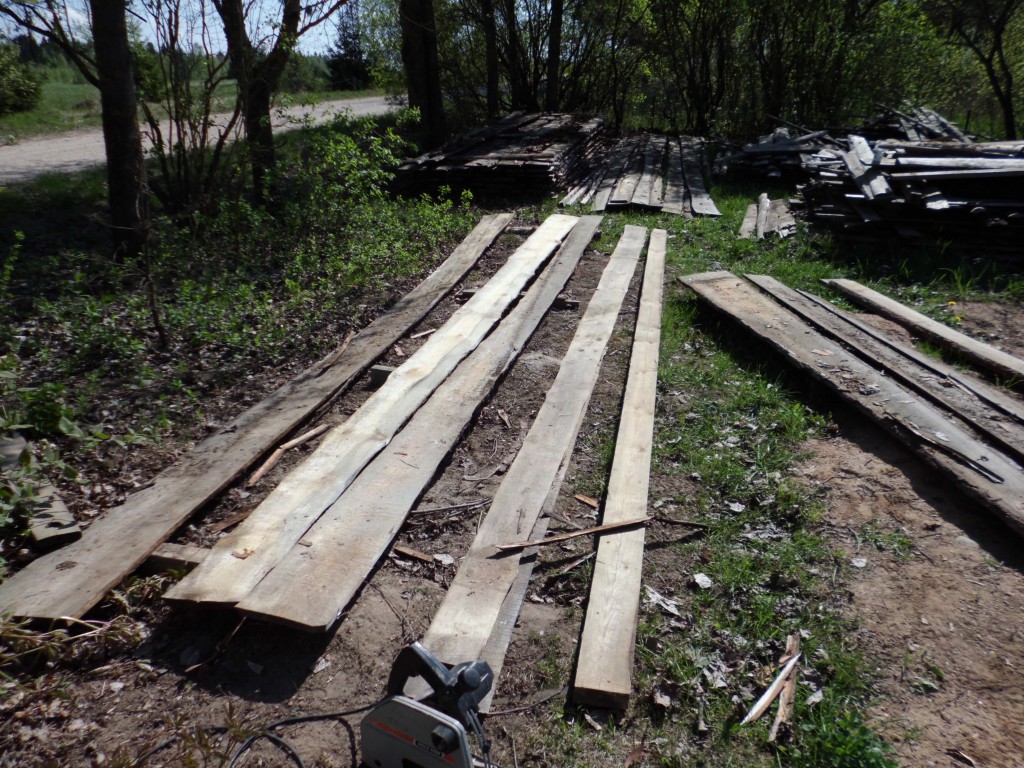 As usual. the "planning" of the day was not realistic. We didn't finish it on day 2. We did allot of other fun things to keep us busy.
Day 3 though (Wednesday). We finally finished the Platform. Things went allot faster now we got the hang of it, I sawed the planks, Bart was nailing the planks, Peter was helping me out whenever needed n Chris/Peter were moving the planks. Eventually it looked something like this.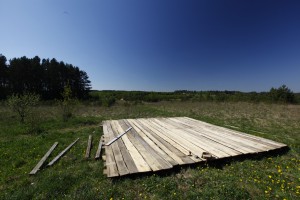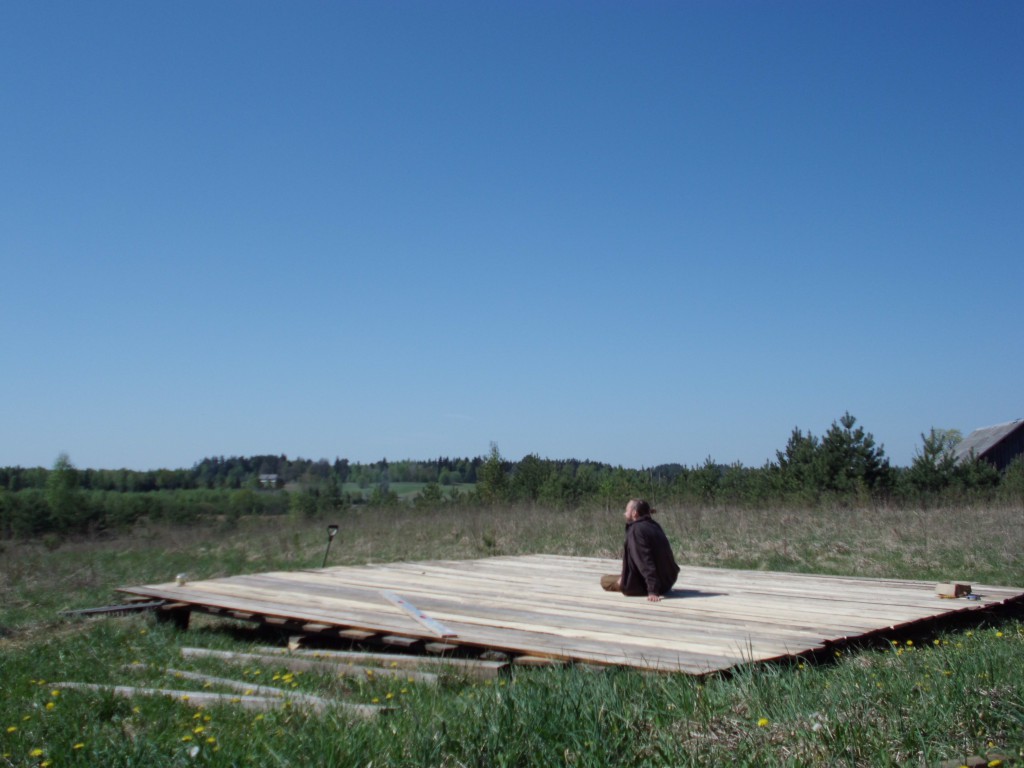 What Basz was doing? I'm not sure what he was doing. Probably walking on water somewhere, maybe practicing his Telekinesis, who knows!
Because we finished the platform early afternoon we started on the Yurt right away,
Something you should know: Non of us ever build a Yurt, it was a rather exciting moment. We you-tubed a Yurt building tutorial, for the Almerian couple it was a lil stressful sometimes, Luckily I did not have to sleep in the Yurt. So i was able to keep my Zen.
(don't worrie everything was fine again at the end of the day)
But you can imagine, sometimes the Mind takes over and starts to worrie about the things you should simply not worrie about. I would say this was the case for Chris, she had a different point of view. luckily we can respect each other here for who we are. so after sharing our different point of view things are Back to Basic again.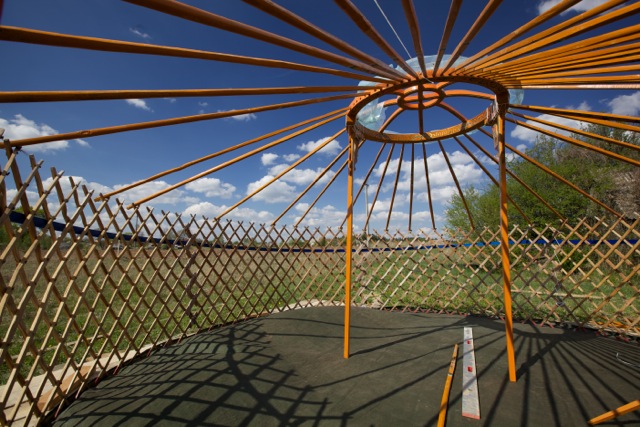 Its Wednesday evening. We managed to finish the Frame of the Yurt,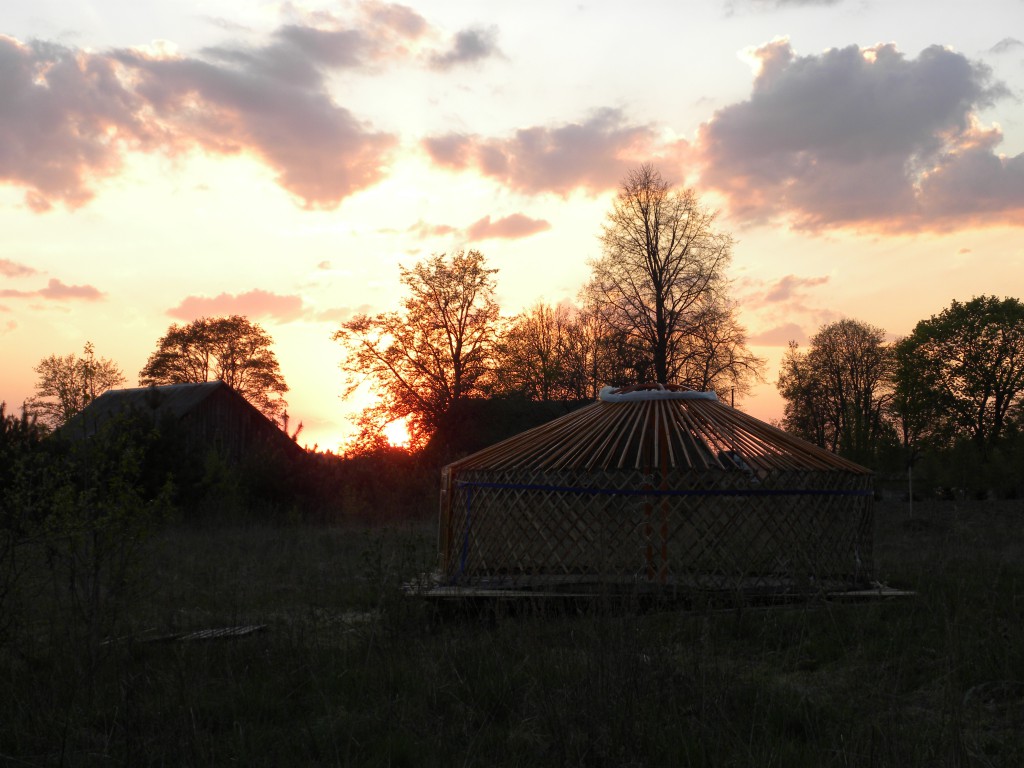 The weather was very nice the first week, not much wind, no rain at all. Just sun and warmth. It was very nice working in these weather conditions. I certainly got some Tan!
The next day a new person would arrive, Karin: Shes an older woman into Permaculture and plants, stuff like that. Peter n Chris went to pick her up from the Airport,
Me, Basz n Bart started preparing to dress up the yurt.
When Peter n Chris arrived with Karin we started putting the wool/Canvas over the Frame. This also was a bit of a puzzle but eventually it all worked out.
Karin had to find her way a lil so she didn't help that much. which was not a problem.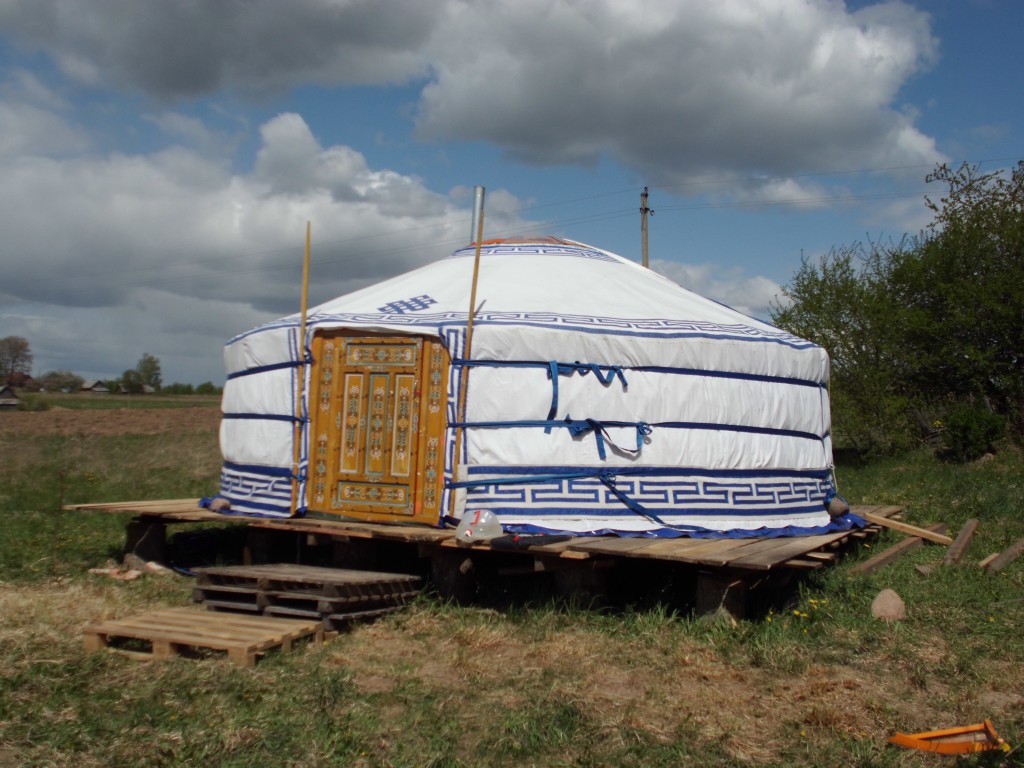 The inside of the yurt was still rather empty. Due to not being able to find the right size tubes for the heater, we spend the Friday doing other things. Basz prepared the heater, he just wasn't able to finish it. To explain a bit what he did, he took an old oil canister, cut a square in it. Because it still had oil remnant in it and the paint on the outside had to get of so it wouldn't poison the air when they fire up the heater it in the Yurt. He put fire in it. Big Fire! Lots of Smoke, Very eco indeed! he kept burning it until the paint on the outside melted off and the oil remnants were gone.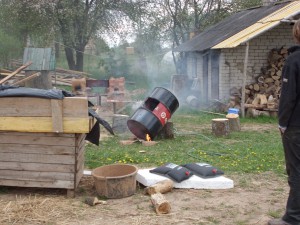 Saturday afternoon The Almerians went to the "Ikea" Herp Derp. They had to find some shelves and things to pimp up the inside of the Yurt's interior. I joined them so they could drop me off in Vilnius, That night I was invited By Ruta n Kamile to the African Drumz Gig. Of course I couldn't resist to check it out!
Basz build the Heater that day, below some pictures to give you a lil idea how the inside of the Yurt got Shape after i returned Sunday afternoon.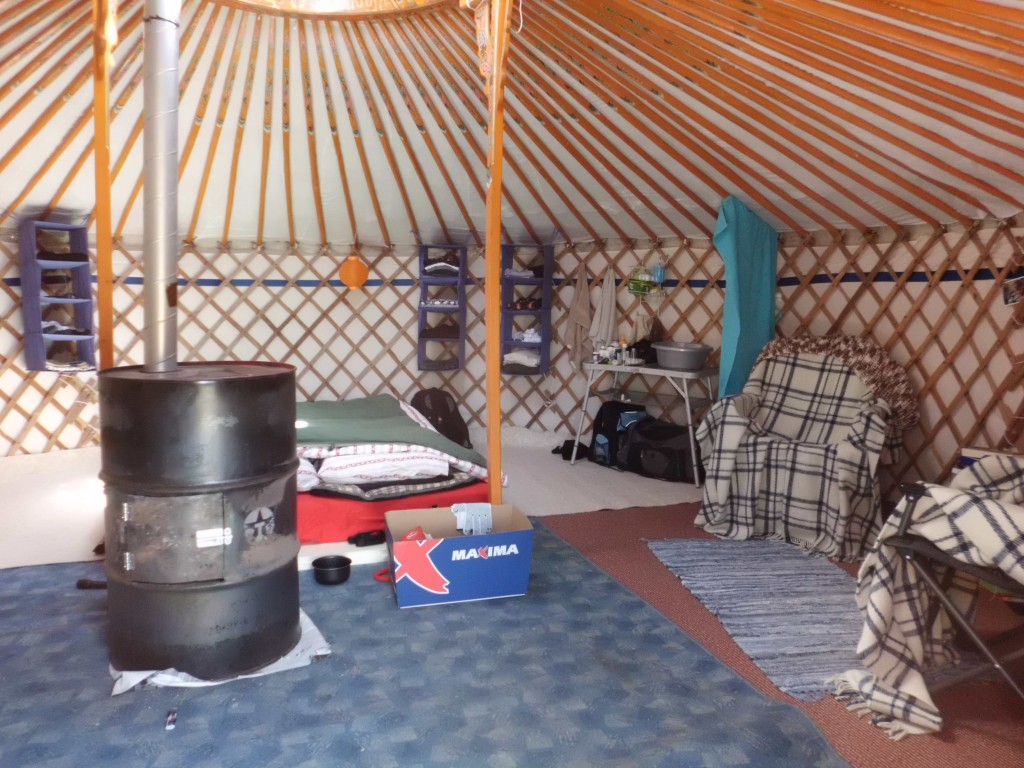 It was a nice week, I enjoyed it very much. Learned allot, The weather was amazing! But apparently we got lucky. After the weekend a steady Northern wind hit us. Daanggg son Northern windsz are cold n strong!!. Bye T-shirt, Welcome triple layers wool sweaters ghegheghe.
Thinking inside the box is not an option here, you haz to learn to be outside of the box.
Really starting to feel the shit the system tried to keep me attached to is slowly fading.
can't imagine at the moment what will happen to me when I will stay here for a longer period of time, only 1 week haz passed, feels like I lived here my entire life.