Its Saturday 19th of April, Me n my Belgian brothers had a nice breakfast, but the time came for our paths to split again. I thanked them for the hospitality and of course the HH lessons/Tour de Berlin. I had a great time with them!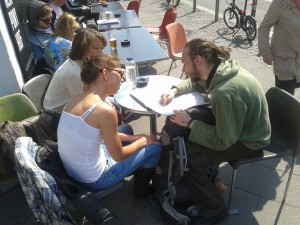 I send and sms to my elder, checking where he would be. They were chillin on a Terras. I took the metro there. When I arrived, told them what i have been doing and the roadsz i hitchhiked in the past 3 dayZ. They were sleeping in a hotel nearby, after the introduction we went to the hotel so I could drop my pack. Then we started walking through Berlin, they had been here before multiple times, for me it was the first time. Lau basically only showed me the awesome stuff and Squats where i was interested in.
My elder though, he felt like showing me the more Touristy thingz.
We walked around, passed allot of markets. Berlin haz allot of awesome markets. My elder and hiz Lady-friends like coffee, I'm not really a coffee kind of dude. So here n there we took a terras for a lil break so they could drink some coffee.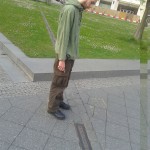 Lau showed me the Berlin wall with the lots of Graffiti on it, I loved it. But there is also a part of the wall that they kept like it "originally" was. We will get to that soon! All the other parts of wall they took down had to be memorized. Imagine bricks and plates like this crossing roads n buildings n gardens n everything to show where the wall originally stood before they took it down.
We kept walking, more markets, more crazy things.
Then we got to this place (see below). When you arrive basically you have no idea dafuq it isz. Its this very big Square with all these Blocks on it, you can run through them, walk over them. Some are super high. Some are low, also the roads in between are wobbly. Due to my new tour guide who likes to know allot about things, I found out it was the Holoc@ust Memorial. Apparently it was not allowed to walk over them, there was even a guard walking around. They are afraid you fall down and break a leg. but he didn't bother me.
I'm maybe confusing Saturday n Sunday a bit. we also used the car a to drive around, Berlin is very big. But it doesn't matter that much atm. you can get an idea of what we did/have seen in those 2 days, and that's what matters!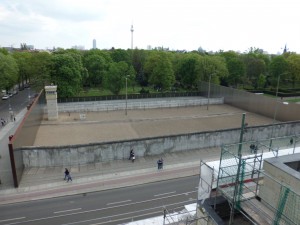 We finally got to the the Wall, and I was rather amazed. I just couldn't imagine a wall like this ran through all of Berlin, splitting West from East n when you tried to pass it, you most likely would get shot. There were guard towers like shown above every vew hundred meters, Searchlights. Mines, dogs, military all kinds of crazy shit.
As usual my guide had to explain it to me in details. Apparently these pictures are rather amusing for peepz that know me and my elder. so that's why i share.

I also had to try to climb the wall, this was rather easy. Its not so high as you think. But I figured I should just leap over the edge to check it out instead of actually jumping over it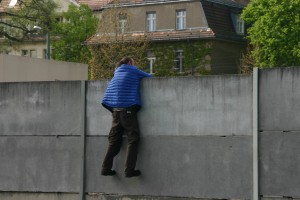 Later we went on checking other things in Berlin, in case you might wonder what all the blue is, Its a rather new Church. And some look like that nowadays.
That night we had dinner across this nice building, I like the architecture! They even manged to convince me to join them to some Salsa place somewhere in Berlin. I'm not so much of a Salsa dude either, but I enjoyed watching all the peepz dancing, got a lil taste of the Salsa nightlife of Berlin.
Sunday we had more funz. We randomly found a huge park whit lots of dudes n dettes. Lots of chillin, Live music. BBQing. Partying. Sportz, Theatering. It was very enjoyable.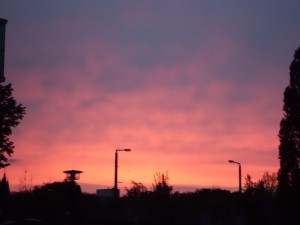 My elder likes to do crazy pictures. he was trying to jump while taking this picture. He does this on a regular basis, this one is not so amazing as others he made on different trips around the world.  But its was a rather amusing moment anywayz.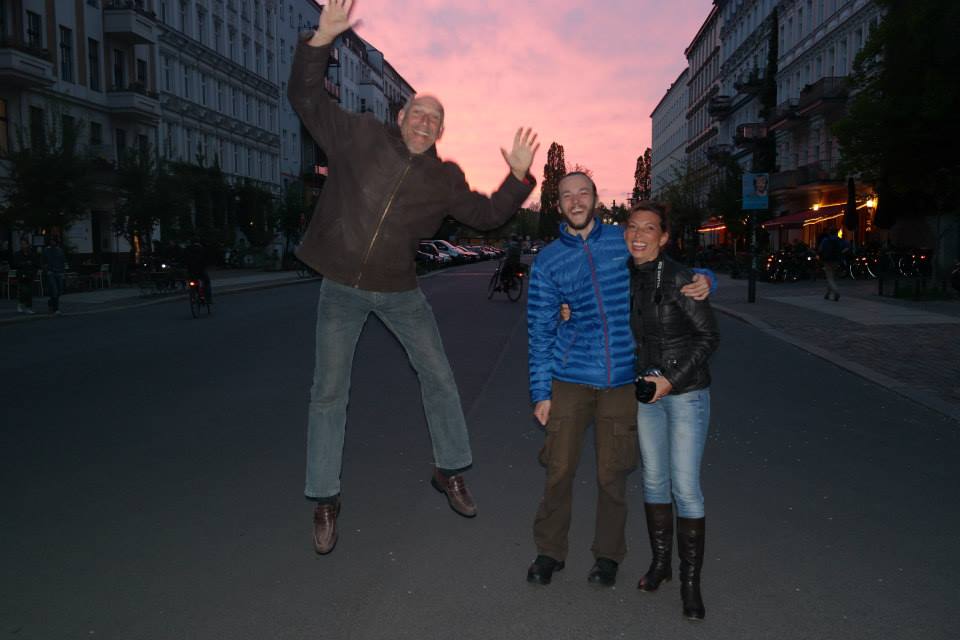 That night we had some Thai dinner, which was not bad at all in my opinion. I should eat more Thai food. i dig coconut, n warm fruits. n spices.
After dinner we went for a Classic Berlin Beer, because the next day I planned on leaving Berlin to continue on my journey again. So after tonight I probably wont see them for a while! it was fun.
I really enjoyed the first weekend of my Journey, Crazy belgiansz, my elder.
I never was really close with my elder, my family is a bit weird, maybe my experience of my family is weird, maybe I'm just not a family kinda dude or maybe its all because of the way i handle family buizniss that I experience it as weird. What is normal anyway? whoever says he is normal is weird. Because no one is normal.  Nothing is Normal. Anywayz. my point is.
I had a good time! Chillin with my elder this weekend was different then usual. More natural and fun in some way.
Tomorrow im heading to Warszawa Whoohooo!!
Check it out!