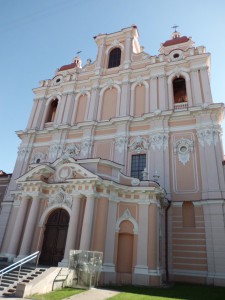 Its Saturday da 26th of April, Around 10 o clockz. the night in the hostel was oke-ish. It didn't had free breakfast though D:
So my first Quest for today was some delicious breakfast. At first i wanted to take some traditional Lithuanian breakfast but this was not so easy. (apparently breakfast is not so popular under the Lithuanian people. but of course it depends on the person)
So after walking around for a while, checking some restaurants and being amazed by all the colors. I ended up eating a very nice Apple cinnamon Crepe at a random terras in a park. Meanwhile finding breakfast I noticed the most amazing architecture i have seen in a while. I'm not a church kinda dude. but i have to admit the churches here are very beautiful.! and i like to look at them, check the symbolism and construction. to make things EZ fo ya all, check Diz
While enjoying my breakfast, I noticed this castle/lookout tower on top of a hill which was in the park I was breakfasting in. With my belly happy of the Applecreppel I decided to climb the hill to check out the castle on top and scout the area a bit, This was the view.
I noticed allot of thing I would like to see, for example (which is not in the picture) there was this mountain-ish nearby, I noticed there was another lookout point on there n there were allot of green areas.
Seeing Vilnius from up high, I went down again and started walking in the direction that attracted me the most. The mountain. In Case you are curious about my mindset when I just arrived at a Capital city, and I don't know what da fuck ima be doing.
Basically i walk around. i like to walk.
I check the map a bit to make sense of direction easyr, but usually i just walk. and see where my feet bring me. In this case I just headed towards the mountain. of course on the way things just got better and better.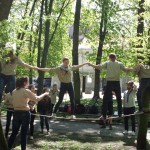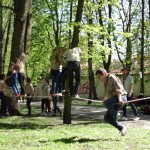 Down the hill, walking through the park towards the mountain i noticed allot of Scouting groups doing there practice.
it was Saturday and I think in the weekends the scouting groups practice. Vilnius is full of parks and nature. Basically all day. everywhere I went, I noticed Scouting group doing awesome things. Here they practiced walking over rope, if someone would fall off. they started over again. but I didn't stay to see if they eventually managed. it was really amusing to see thow.
There are 2 rivers running through Vilnius. the Nerris which is the bigger river probably used for trade and boats. And a smaller one called the Vilnia, at the end of the park I ended up at the Vilnia, I was again amazed by the beauty, I really love to see rivers like this going through city's like Vilnius. Also because it was Scouting day, there were different groups trying to cross the river by rope. making rafts and crossing it, and lots more.
Here you see the river. If you walk up the grass you have this Cracked shell path which follows all along the banks of the river, then there is this park. Then the city starts. I followed the river south, finding a bride to cross it, at the other side of the river was the mountain i wanted to climb.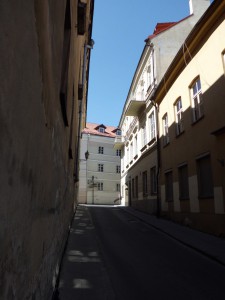 I took a little detour, once I arrived at the bridge to cross the river. I didn't have a place to stay yet for the night and there was a hostel nearby, so i checked it first. i had no luck. eventually i walked around a bit to find a hostel. eventually i found a oke-ish hostel for the night.
many of the roads you have in Vilnius look like this <-. I like it. although it is rather creepy at night if you walk it alone gheghe. So after checking out the streets a bit, I went on towards the mountain. On the way i spoke to some random peepz on the street to ask what i should see fo sho while in Vilnius, the told me to check out Užupis and its Constitution, To explain. there is this island in Vilnius. Its like a separate community, I gues you could say its similar to Ruigoort. The difference is, this community are mostly professional artistians these days (like art) and they live by a vew simple rules.
It was next to the mountain so instead of heading up. I went to check the Constitution first, I had trouble finding it at first. they told me I should cross the bridge, pass the Angle statue, and then somewhere on the wall i could read the Constitution in 10 different languages. of course when I arrived at the Angel, I took the wrong turn and ended up in the middle of Užupis instead of the Constitution. I went back, eventually i found it and Again I was rather amazed by it. I felt some sort of connection with it. and the idea of people actually living by these rules in that part of Vilnius is amazing in my honest opinion.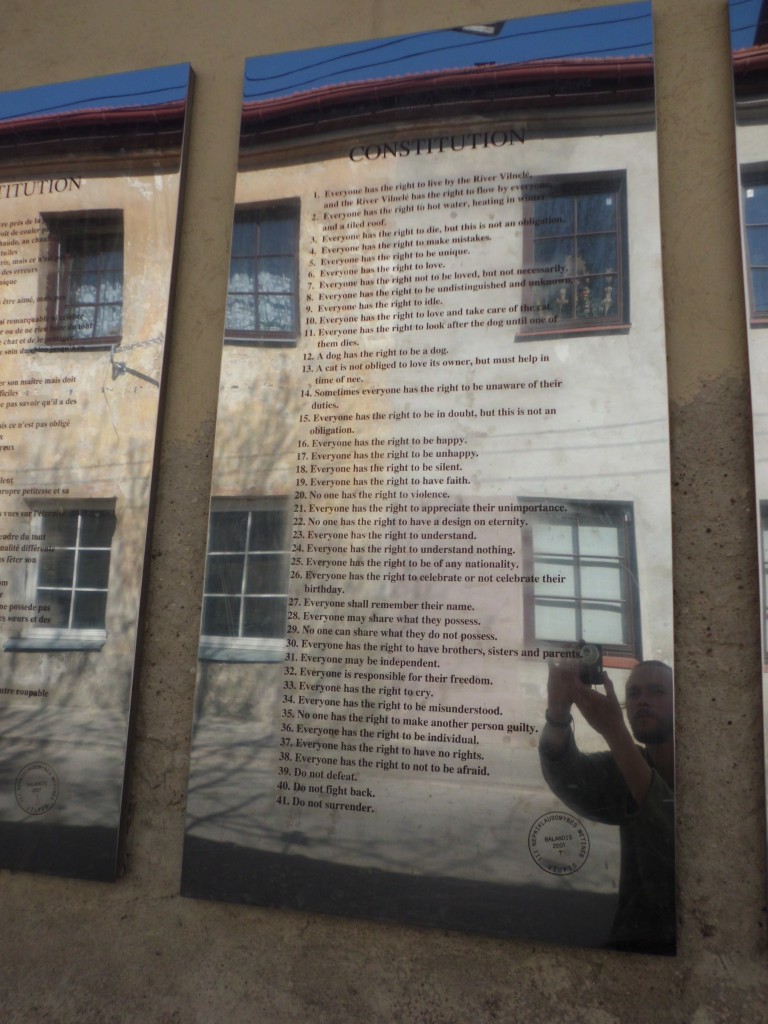 Although I think all of them are amazing, and very truthful
I would like to ask you to think about these a bit more. But this is not an Obligation
4 n 5,
20 !!!!!
31 n 32,
35 !!!!!
Gettin Zen on the Constitution I was finally ready to Climb some mountains,
this time I walked the river North, but on the other side. This was not a nice straight cracked shell path but a rather adventurous dirt road. I noticed allot of peepz walking anywhere they wanted. Me, An Erthling Raised in the "West" felt I should follow the paths, If i would leave the path in a nature area in NL you risk getting a ticket because most of the time it is not allowed and bla bla bla. but very soon i felt like fuck dat shit. and i just Went straight in and up!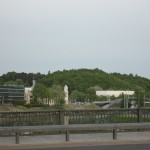 I think it took me at least an hour to get to the top. maybe longer. my point is. i wasn't in a hurry. I really enjoyed it. and it felt amazing. There were 3 crosses on top which was a lookout also. (the picture on the right shows you the mountain//hill and the crosses, but i took the picture a week later when i returned to Vilnius. ill blog about this amazing day soon!) Below you will see some pictures I made while i was at the top. some "Wild" animals I encountered. I also meditated for about 30 minutes somewhere on a quiet spot. but due to the climb my body was very tired. So i was dozing off very fast instead of keeping the focus. In the final picture below you can see the Castle on the hill i climbed after breakfast,
So after climbing the mountain, scouting the top, checking the view, trying to meditate. I got hungriez again. I went down to finally find myself some Traditional Lithuanian foodzies, but when i got down (which was also a pretty exciting adventure because i again didn't feel like taking any road or stairs) I felt like taking a nap. Which i did for about 30 minutes on in the grass on the river bank of the Vilnia. I'm used to taking a nap in the train or bus. but this nap was the most amazing nap i ever took. the sound of the water, children playing, musicians musicing. It was perfect and right on the spot!
of course I got super hungry when i woke up. So i put my Traditional Lithuanian food Quest on priority #1.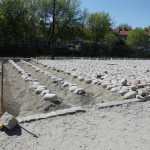 On the way I came across some street workers. This is very interesting. I know how we make brick streets in the Netherlands. of course its and expertise. but not so special Imo. This though. This is just wow. The dude fits every rock on the spot, he like turns it around a vew times until he finds out how it fits best, Hits it a vew times, add some sand, hits it again, levels it with the water thingy and so on. I stood there for a while to watch. I was very entertained.
Finally i came to the bigger streets of Vilnius with the amazing restaurants and whatnot.
Due to my woozynes of my nap at the Vilnia, and my crazy mountain climbing experience I first found myself some Saltibarsciai. Remember the beetroot soup in Warszawa? the blood? here in Lituva they also have Beetroot soup, but they serve it cold. Its very tasty and very refreshing. It hit the spot right on, after the Saltibarsciai I was all fresh again, ready for the Saturday night. I was still hungry though. So after I found myself a Traditional Lithuanian Kitchen and ordered some Cepelinai, which is a meat filled potato zeppelin gheghe. the drink is Kvass, not cola lel Fuck Cola! Kvass is made of bread. it was very interesting taste. The dinner was delicious and I had no more hungriez after that. Now i was really ready for a Vilnius Saturday night.
Walking around, and basically with no idea what i was supposed to be doing that evening. I stopped at a town map to check out where I haz been walking and where I could maybe find something fun to do. next to the map stood a lovely lady, she was listening to music. Usually I don't talk to people on the street so much. but ever since I left home this changed like crazy. With all my Beardly charms I asked her if she spoke English, told her that I arrived last night, and was very curious what a Lithuanian would do for fun on a Saturday night in Vilnius.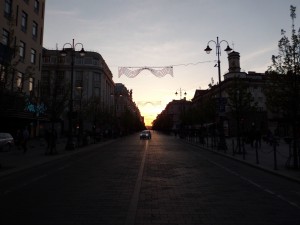 We got into a confo, she was waiting for 2 of her friends. If this would happen to me in Amsterdam i would just say Paradiso/Melkweg, but she had no idea of something fun to do except for a reggae place, she was like: usually we just walk around with no plan until something awesome happens. I didn't feel like going solo again. So I asked her if I could join them for the evening. She didn't mind yay!. When her 2 friends arrived I both asked them the same thing. Both of them didn't think i was some creepy wanker (i guess), sure no problem! they replied. Her name was Rūta, her 2 lady friends that joined later were Kamile (with a thingy on the e) and … (i dont remember her Lithuanian name) but she told me the meaning of her name in English. which is "Cloudless Sky" (ps; the picture is where i met Ruta, (with a thingy on the u)
They took me to a bar nearby, where we drank some beers. Very delicious beers. With the help of my camera I showed them some pictures of my Journey and told them the stories of the crazy things I experienced in the last 2 weeks. They were really friendly and liked the stories i had to tell.  They also explained me whats the deal with the religion here, and we shared our ideas about the current state of the world. "Cloudless Sky" her boyfriend was almost done from work, so we went to pick him up somewhere. Meanwhile they gave me a lil tour and thought me about the history of Vilnius. We even went to the old Palace if i remember correct, where napoleon visited once for a vew weeks.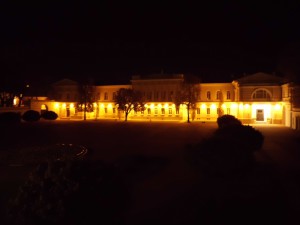 When the dudes arrived we went to another bar, had some more Amazing Lithuanian beers, Ate some fried bread with garlic. Fried bread with garlic you say? fuck yeah! this is pretty normal here and its amazingly delicious (google: kepta duona) so simple but so awesome. I love this dish. They Serve it with Cheese or without. We chilled for a bit, afterwards we went to another bar. Balkan Beat evening. We were not drunk enough compared to the peepz already there. but we had a fun time anywayz. After. Me, Ruta n Kamile went for some foodzies, some hamburger place nearby. They took the cab back home. and I walked to the hostel i managed to fix somewhere that afternoon.
I had an amazing day. You cannot imagine how much i love Vilnius, The people, the colors, the architecture, the size, the nature all around. Its amazing! also the fact that i could join the ladies for the night was a really big relieve for me. They were like: if you didn't meet us you would probably meet someone else. Thats probably true, but still. they are amazing. very kind. and I felt like we were on the same line. Ruta n Kamile have a Very special Talent for Laughter. They smile and laugh so much! also the ladies play in an African music Djembe group. They invited me to join their concert next week on Saturday in the bar where we ate Fried Breadz! I'm really curious and will check it out Fo sho!
Tomorrow i will head to IzReal!