Vilnius Street Music Day (Gatves Muzikos Diena)
A perfect day for a dude like me to wanders the streets n check whats up.
I Arrived in Vilnius by bus around 11:30, Due to the fact that Ausra had to Study for her Exams nxt week she could not join me for the day, she was so Awesome enough to offer me the key of her apartment. This so I could just go and do my thang. N whenever I felt like going "Homez" i could just go back to her place to chill or do whatever.
As usual I walked from the Central bus/train station to her place. On the way got some of those delicious sweet breads. In the end she wasn't so hungriez So i ate them both :))) She came back to Vilnius a vew days ago after Visiting Brussels for her study, We had a nice chat about her Travelz n my experiences at da "Eco Project" she showed me how the door works, n stuff like that. Later she went to the Library to study for the rest of the day/night, and I headed into Vilnius old town, Why? Because the Awesome Vakarų Afrikos būgnų mokykla were to play around 14:00 on the Town hall Square AwwwwYeahh!.
The way from "Homez" to the town hall was amazing, when I arrived in Vilnius this morning it didn't really start yet. but on my way to the Town Hall allot of music was wandering the streets. To give you an idea: Erywhere n Anywhere were peepz. with dem instruments, playing music. Once you passed one and didn't hear their sounds anymore, the next one would be vibrating your eardrumz, Sometimes even one sound went flawless into the other. Below Some random pictures of random bands I encountered,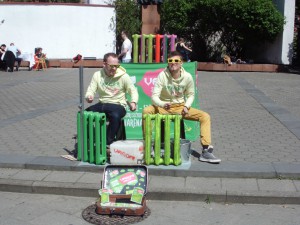 These dudes, they were amazing. When I headed to the Town Hall I checked them out a bit. they were rather smiley and making beats like crazy, they seemed rather enjoyed by everything that they were doing n what was going on.
the thing that amazed me the most, is that Later that day it started raining, but when i went back "Homez" around 22:00 they were still playing there on the same spot. In the rainz. while basically the rest of the bands stopped playing. +1 u dudes.
I recently found a movie, Check dem dudes out!!
I arrived at the Town hall a little bit early, I figured they would be there already preparing. This was not the case. At first i got a little worried I might be at the wrong location, or had the time confused. Luckily at 14:00 Gediminas arrived with car n Djembe's, not much later I started seeing much more familiar faces. I think we waited for half an hour, the Lithuanian marching band passed by. Doing there National Anthem, when they marched on, it was time for sum Djembe Beatz!
It was allot different then the evening at Artistai, what I mean with this is like: It was more a kind of Jam-session, fused with their songs. also Gediminas wasn't singing any songs this time due to no mic n stuff. Due to this. the Communication between them was even more intense, also everybody was welcome to Grab a Djembe and join them, to bad though I found out at the end of the concert… that wasn't a problem for me, I just felt like getting Zen again and trying to observe the sound waves shoot out above and around them. It was rather amazing. There was this stage with shit loads o Speakers on the Square, on the edges were bands playing. But when the Djembes started most of those sounds faded into the abyss and Djembe is all we could hear. They played for almost 2 hours straight, with maybe 1 or 2, 5 min breaks in between to switch setups.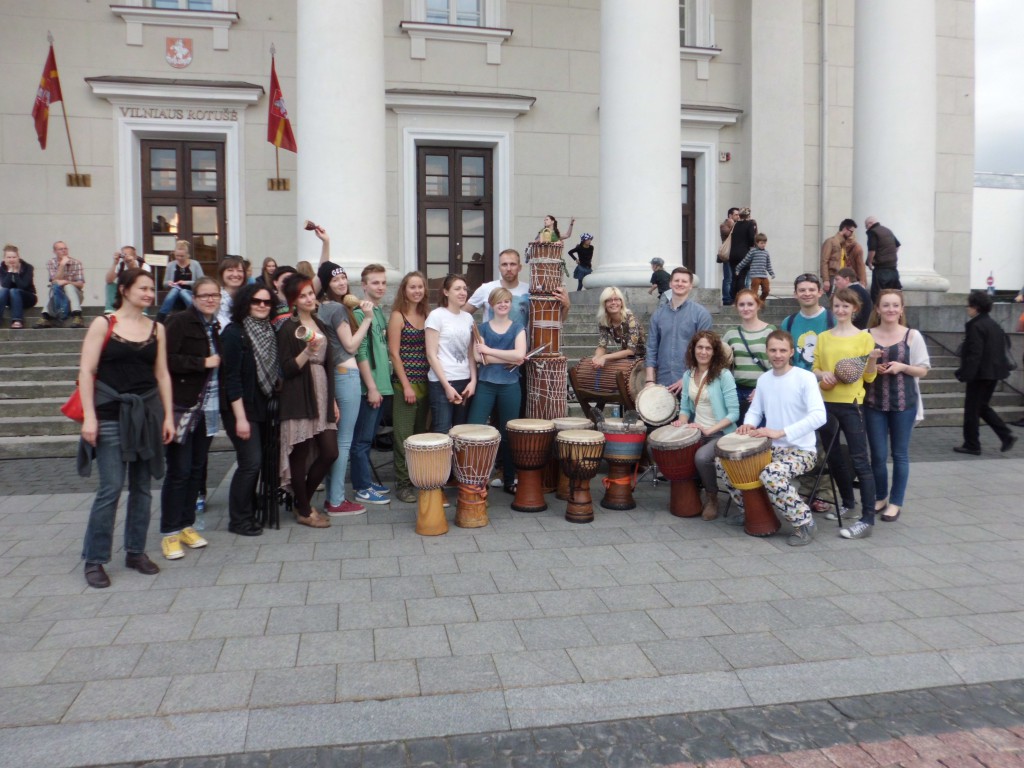 At first, I figured I could join the group again for the rest of the day, or at least Ruta or Kamile. But this time I was not so luckiez. Both didn't have time, most of the group left right after the concert, only a little core remained: Me, Gediminas n his lady, Ruta, Kamile, Agne, and another person that I didn't know. We headed to Artistai to get some drinks and some food, but dannnggzz. Due to the Festival it was rather crowded. They told us that we should wait at least 1 hour for food. maybe more. So instead we just ordered a drink.
with my failed idea to join the ladies for the rest of the day. I did some research and asked them what awesome bands I should see, they recommended me allot of things. I also asked what would be nice to get for dinner, all of the sudden I got really in da mood for Lasagne, Oh Yeah baby I love lasagne. When I asked for the Best Restaurant for some Delicious Lasagne they pretty much told me I should make a Lasagne myself, not only would this be cheaper. I had a empty home with awesome Kitchen at my disposal and with some luck I was able to make Ausra very happy with some food when she would come home late at night. There mind-tricks worked, my new plan was to do some groceries n make sum Lasagne later that night.
We left Artistai, Due to the fact that Basz would head to the Airport to pick Chris up at Monday midday, and I could stay at Ausra's until then, I figured ill ask if someone wanna to join me the next day (Sunday), I didn't feel like wandering the streets solo again on Sunday, u feel me brah? Ruta n Kamile were to busy, But luckily Agne was up for it! she planned on Visiting her Aunt Sunday afternoon, but until then she was cool.
I walked with Agne for a very little bit, exchanged contact info and started wandering da Streets of Vilnius again. But with a new Quest, Lasagne! on the way I encountered some bandsz again,
Due to the Mind-tricks, I was not able to get some Lasagne at a restaurant, but it was 17:00 and I didn't eat much all day, I was crazy hungriez. So I got myself a "in between snack" instead, Kebabas!!! While I ate my Kebabas (which this time was not so delicious as previous onces :(( ) I enjoyed these 2 dudes, making crazy beats.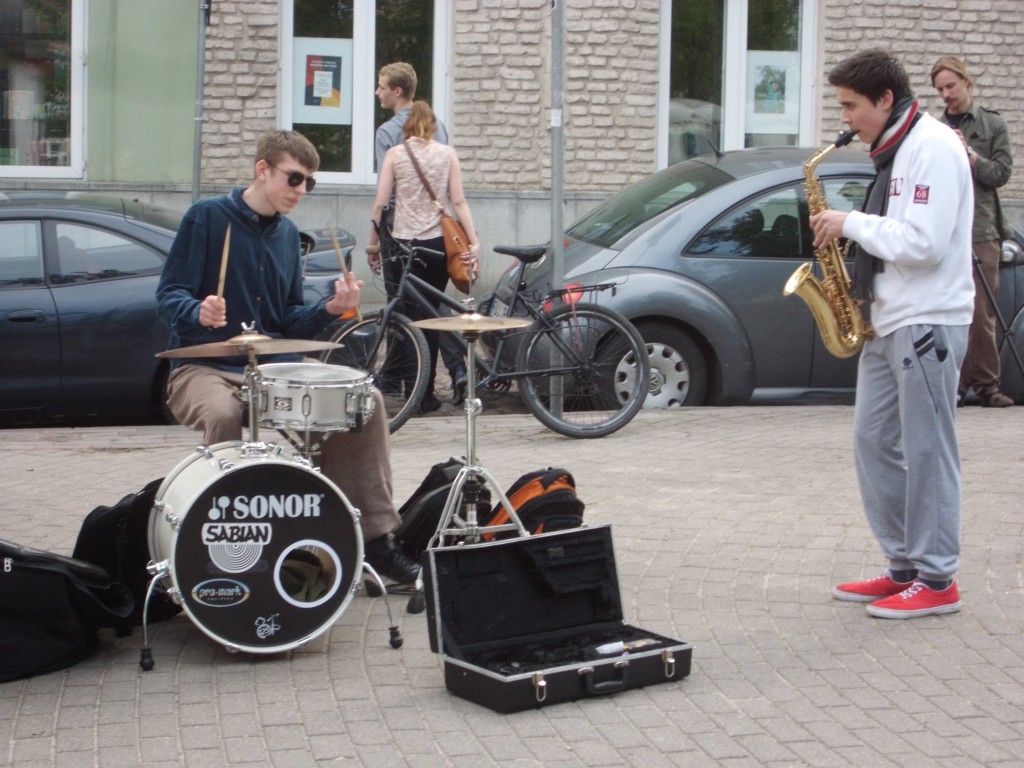 With my snack all finished, I ventured forth, soon after I Encountered this Italian shop. where I bought me some special Lasagne saucze and the dough thingies for the layer buildup. I still needed all da Veggies n something for the top layer. I also got thirsty again, and the lady at the Italian shop recommended me some Juice bar very near.
The Juice bar was supposed to be in some kind of shopping mall, I was able to find the mall. but I didn't find the Juice bar at first, instead I went to buy some Groceries. I found all the veggies I liked in da Lasagne, but I still needed this top layer. I'm used to bechamelsaus, from the Italian shop lady I got this paper with the Translation of this Saucze in Lithuanian: bešamelio padažas la Lasagne traditzionale. (she didn't sell it)
While searching for thisz Saucze, I got rather confused again and soon after walking around the store twice, I chilled somewhere close to the Spices n Sauczes, when I Encountered two ladies acting rather decisive-less for an Ice cream (yes the fridges were next to the spices n Sauczes) I figured, lets give it a try. Labas, do you maybe know where I can find this?
At first they looked kinda in shock of me talking to them, but when they read the note, one of the ladies was so committed to assisting me with my Quest, She ran through the store, checked all the place it was possibly stored. I noticed pretty fast that she had no idea where dafuq it was. I told her to just let it be and give me my note back so I could ask someone from the store. She did not like that really, She was Way to committed to help me find the bešamelio padažas, she spoke to random people in the store in Lithuanian, then asked the store people. In the end, it was no were to be found.
In the meantime I got into a conversation with her, when I told her I hitchhiked from The Netherlands, she suddenly started talking crazy words like Woow super tof, Lasagne is lekker, leipe shit ouwe. Apparently she could understand Dutch rather well, and speak it also little-ish, and so I made a new friend, her name is Luka. I asked her if I could join her for a vew hours until I would head "home" to make sum Lasagne, she was glad to.
I was still thirsty, I was not able to find the bottles of water in this store. (not that i trust these bottles anymore, i don't like bubbled water) but luckily Luka could show me to the Juice Bar I was originally searching for,
Behold, the juice bar!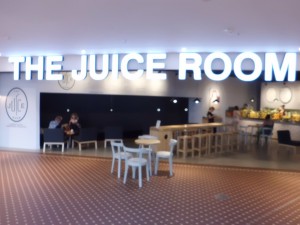 oh lold I mean Juice room…
(Note, it was super crowded that moment, but since i left Artistai I didn't really make much pictures. this picture is from Sunday when I returned for a picture to pimp my blog a bit)
While ordering some juice, I tried my best Lithuanian. When I tried to pronounce the most complicated of names of those juices, Luka was rather amused and was not shy of laughing at me in Da Face. I was able to slap(not actually) her back in the face, cuz a Fun Fact for yall to know
Lithuanians cannot pronounce the G or SCH like the dutch can
and with the rolling R they also have trouble now n then.
also there W doesn't even Exists in their alphabet, so this can be funny also if you find the right words. I'm not sure if this was just Luka or if it is for Lithuanians in General but the UI was also something hilarious to see her try to pronounce, so if a Lithuanian if making fun of you about your speech, ask them to try this sentence.
Gekke Geiten melken op SCHiermonnikooG
(I bet there are better ones. ((Haters gonna Hate))
Most of the time they don't even try, and be like. OOOHHH No wayyy That is Mission Impossible! The point of all the crazyness written above here is: I just met Luka, but it didn't feel like I met someone new, it was Crazy fun from the moment she started talking dutch and I was glad to meet someone crazy again to chill with for the time being!
When we went outside of the mall, it was raining like mad, her friend in the Store ran off somewhere. but a new friend of her joined. They brought me to their Favorite chill spot (to smoke) Also a Fun Fact. Lithuanian ladies don't like smoking and walking, so basically every time they wanna smoke they find a place to chill. They say Smoking and walking is for Buiznesz girls in a hurry or for hookers. lelz…. but mainly they think a Smoke is to enjoy, so you don't do that while walking, you chillax.
As usual I told them my story with the help of my camera, meanwhile another friend of them joined, We had a very fun time teaching Dutch/Lithuanian, also a bit Russian, pronunciations, crazy jokes like. Dat is echt een Dijenkletser (this came from Luka her mouth) and lots more,
When the thunder and rain stopped we started wandering the streets again,
They felt like dancing. I should have movied it probably, but basically when these crazy drummer dudes made crazy beats, they started moving like crazy Aboriginals doing some Ritual. It was once again rather amusing for me to see.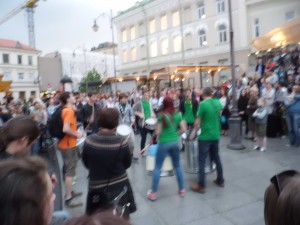 Later that evening they had plans for some Crazy party in some club to do some more dancing, I didn't really feel like clubbing, I still had a Lasagne to Summon from the Depths of LasagnaLand, so I headed back "home" to Ausra's place so I could prepare the Summoning Ritual of da LasagnazZ, We passed Luka her home where our paths split, her 2 friends (although I remember their faces I cant recall their names), joined me for a bit, their bus stop was on the way I was heading. Due to the fact I still didn't find dem bešamelio padažas one of them Recommended me Some Cheese, I joined them to another store to buy dem cheese. afterwards our paths split also, and I had a 20 min walk towards Ausra's ahead of me
Arriving at Ausra's I felt like inspector gadget, using all my Skillz to find the needed things. which was not so hard after all. When I opened her fridge I was Amazed really,
This is what Ausra her fridge looks like. In NL Most fridges have things from the Albert Heijn, but Ausra her fridge was filled with home made Awesomeness,
Let me Introduce to you, Ausra her Fridge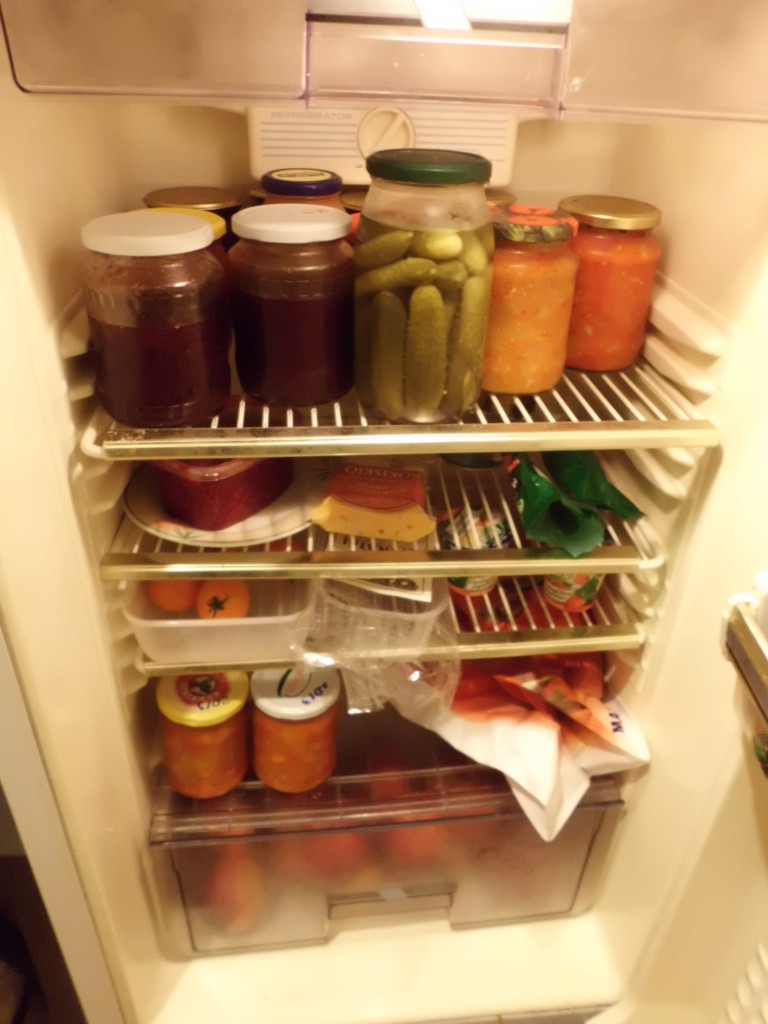 -On the top shelf, some pickles, but besides those mostly home mad Jammies n thingz-
-Below some more Jammies and some bought cheese-
-some mandarins and yoghurts-
-then some fruit/veggie things in some sort of saucze-
-and the drawer below was full of apples from her parents garden-
But back to the Summoning Ritual, I managed to gather all the needed things and was ready to say some chants to prepare the Ritual. but then I realized I skipped one of the most difficult parts of the Ritual.
I had to fire up her oven, because what is a Lasagne without being in the Oven for about 45 min on 180 degrees. well not a Lasagne indeed,
The oven was a Mystery, I tried to solve it, it had no button to show the Degrees, no timer (which is oke) only a button with a big and a small fire on it, I tried some Combinations, with some combinations I could hear gas coming from different parts of the oven, but this was not Constant, as if i didn't enter the correct combination, after trying for a while, the smell of Gasz was to intense, I didn't want to fail the Ritual and summon demons from the depths of the underworld, or maybe even blow up the entire building. I tried to find some Aid,
When I send her an sms to ask if she would be hungry and if she could give me some hints to solving the Oven mystery, she was rather Mysterious and didn't really care to give me some hints on solving the mystery. I gues she wasn't so hungry as i expected gheghe.
My Lasagne dinner surprise failed, the Ritual ended in Me eating all the chocolate bars I could find in her cupboard, and eating some breads with the Most delicious Jams I could ever imagine from the fridge. Around 00:00 Ausra arrived back home, she was rather amused with my explanation of trying to solve this Oven Mystery. We had a good laugh and chilled for a bit, but it was getting late, not much later ZzZzZzZZzzz,
The next day was also a very fun day,
Check it out!