Its da 20th of June today, Vilnius Culture night,
Afrikos būgnų will be playing again tonight, so of course I had to check dem out! Due to Ausra graduating and finaly recieving her Diploma, she also had time to join to the awesome Festival thingies. I woke up early and took the bus to Vilnius around 10. We planned to wander da streetz, buy some stuff, She is not the shopping kinda type, neither am I. I figured this will be perfect, due to not spending shit loads of time on nothing you feel me? But the weather wasn't as perfect as expected, mostly rain. little sun. it went on like diz almost all day. so the Usual happened. we ended up on the Balcony chillin n talking about the last 2 weeks.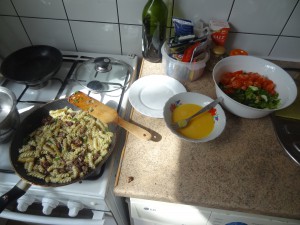 Around the clock of 15:00 we started to get Hungriez, I expected to take a light lunch, a bread or something simple. I totally forgot that Lithuanians eat completely different, instead of taking a light lunch. Ausra made some Crazy  Omlet, with like Wild pig meat (which her uncle hunted himself and put in cans) pasta, veggies. and a Salad (all from fresh ingredients from her Parents garden). Later we would just add the Eggz to da pasta, add some Tomato sausce, n then eat it with dem salad. It was Very very delicious!!
Afrikos būgnų Wouldn't play until 23:00, Ausra made plans with a classmate of her to check out some sort of Vilnius Tour. Everything today is free, there were lots of music events Tours and allot of things going on, she was interested in the tour because it was about Artist but one part of the tour had Graffiti related things. This was the main reason she wanted to check the tour. Da tour started @ 19:00 After the delicious Omelet it was time to head downtown to check it out.
To bad for me the tour was in Lithuanian. so I couldn't understand shit. Ausra and her friendz would translate the most interesting or important parts for me, but in general I couldn't follow the story. The tour was fun though. they had like assignments. for example you had to look around at places and whatever memorie would pop up you could write down. they asked us to Gues how many times it would rain through the tour and stuff like: when we would enter this Courtyard we had to find like a statue or a painting or something hidden. and whenever you found it yell it out loud! it was rather fun. Even though I could not understand anything. Due to the fact that Ausra likes Graffiti so much, I Decided to make pictures of the Graffiti instead. I had to make some picturez anyway, don't wanna end up writing a chapter of my book without pictures!!!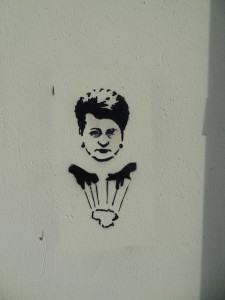 Recently there were Elections in Lithuania, there is this woman who was chosen last time, and won again this time. I got some information about her from the time I chilled with Agne. for example: she has like her own garden and grows her own food and really tries to live/help the people of the country. shes a very powerful woman within Lithuania. Cant imagine dutch political figures growing their own food lol.Of course there are allot of people who would not agree, and with the amount of artist and conspurazududes, you end up with this kind of stencil. Obviously it refers to the Puppet masters of this world today, and the influence she haz over Lithuania. so yeah. I like this kind of artzies. but i cannot judge because I don't know any details eh. saw this atleast 3 times that day walking through Vilnius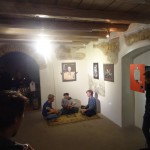 a bit further this artist start to talk about the history of Uzupis, the group could enter his home and check out the gallery. it was cool to see. while the group was still walking around we found these three playing some very relaxing interesting music. I really enjoyed seeing them play diz, the lady in the middle was completely in Trance. and it sounded very nice. our group continued with the tour so we couldn't stay that long.
After chillin in some more Courtyards and unknown storiez, we had another assignment. they were telling about some group of people that were Ani The system/Rich people, they would make jokes about rich people and so on. I didn't get much details,
the nice part about this was, that out of nothing Ausra recognized Gediminas his car due to his African pants laying on the side chair. she grabbed a chalk and started to Graffiti hisz car gheghe. of course this was rather awkward for the people around. but she don't give a fuck and started yelling like. This is the car of a friend of mine bla bla im gonna Graffiti it or something similar. on one of the Tires I wrote, Groetjes uit Nederland. I'm there dutch Fanboy you know! I think I missed only 1 of their Gigz ever since I came to Lietuva
We were getting close to the Graffiti building, not much to tell here I suppose, Basically there is this door, which looks normal. but when you enter it, all the stairway is completely painted with Grafiti. ill just post the Graffiti stuff to give you an idea. Jwz maatje
so it was getting late, Its around 22:00 now, almost time for Afrikos būgnų. The tour still had 1 more thing to check it was somewhere on a mountain. our priorities were checking the gigz. We went for a beer in Uzupis, of course I wanted a Kepta Douna but the kitchen was closed. while drinking a beer Ausra her friend Jordana and a Spanish friend of her joined us. we went to check out Afrikos būgnų with the 4 of us. (yall don't know Jordana yet, but she came to IzReal to chill with Chris about a Retreat plan they have) when we went for the park where the Gigz would be, things got crazy. Ausra started to yell to let them know we arrived at the gigz. very amusing. she did this all gig long all da timez. I'm amazed she still haz her voice.
The gigz was awesome once again. Gediminas had a friend of him who plays Saxon to join the gig. which made some interesting different feel in music. they also went of the stage to dance sum. I'm still amazed how they manage to entertain the crowd in different ways. no gig isz the same!
After the concert which took about 1 hour, we went to eat pizza at the place where we ate pizza before on the African drumz night, On the way to the pizza place, we encountered some Classical music ladies who were preforming. Me n Ausra chilled there for a little Due to the fact that Ausra likes Classical music allot. I was not bothered by this either. The rest of the group moved on, Eventually we went to the pizza place, and ordered some foodzies it was very fun once again. and the pizza's there a very delicious! we chilled until early morning.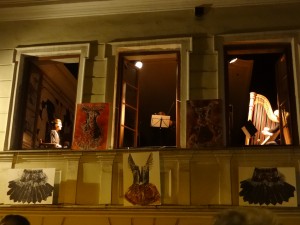 Tomorrow I will chill with Ausra her new Room mate, Scout Vilnius a bit more. check out some Expositions. We will also make Kepta Douna our self, and Šaltibarščiai Check it out!!