Its thursday morning, around 05:30. Bas dropped me of at the nearest bus stop, the ride was somewhat weird. you know, you have been living together for about a year. developed a friendship and then its the moment when your roads go in different directions. It was bearable, the only somewhat dificult moment to not show any emotions like "real men" was at the busstop getting out of the car and saying the last words. but we stayed strong!
Its so early because I wanted to get to Berlin on Friday, with some research on hitchwiki there seemed to be a very nice gasstation south of Kaunas to get easy rides towards Poland. the only bus to Kaunas was in the early morning. Besides that, I had to meet up with Aiste one last time. for she made me an awesome bag, that she just finished the night before. I arrived at kaunas around 08:00 exchanged the last words with Aiste and a very big hug, she gave me the bag and also made me delicious Bananna bread! but this was really it. The minibus to the gasstation arrived. I am now officially on my journey towards Transylvania! The ride towards the busstation was somewhat emotional for me. thats when the realization of leaving really kicked in. I got really attached to Lithuania and the people I met there. This past year was a wonderfull year with many wonderfull moment, awsome friends made, and memories stored. Luckily when I arrived at the gas station and wrote my shield (PL) I was back to normal again. looking forward to my Journey just waiting for my ride.
in about 5 minutes. maybe 10 the first car stopped. It was a Lithuanian Milk farmer with 2 kids in the back. he was heading home to its farm which was close to the border of LT/PL. he sells his milk to production factories, where they eventually make things like Surelis, Chees, Kefiras etc from it. but milk is becomming cheaper so its getting harder to come around. He dropped me of at the last Gas station before PL border, There i had a little "break" ate some breakfast, tried Aistes cake, not much later I threw my tumb in the air.
Again it didnt took me that long. cars were passing by quite fast, but there was some sort of emergency lane with a lot of space. after about 20 minutes a pretty fancy car stopped. I picked up my backpack and ran! Woosh! it had a LT lisence plate, but the dude inside was Icelandic. Liefur was his name. The most awesome ride I ever hitched untill now! Liefur used to work in Iceland as a Whale tour guide (on the boats etc). then he did a little study on Photography in Iceland, and moved to Berlin to contineu this Study. For the past year he had been Backpacking through Asia doing Photography the reason why he was in LT was because his father has a factorie in Kaunas, making carpet(wooden floors) and Build-In unit homes. he was helping his dad taking pictures for the new catologue, but felt like some socializing, so he took the car and was heading to Berlin to meet friends. Thats right!! all the way to Berlin! we talked quite a lot, and listened to some Icelandic music. Liefur had booked a hostel in Poznan for he really like the old town. I could have gotten to Berlin that night. but I decided to hang out with Leifur and join him to Poznan for an evening and join him to Berlin in the morning.
We arrived around dinner time, dropped our bags at the hostel and took a walk around town. we were initially looking for some nice restaurant to have some polish dinner, but we ended up eating a Kebab :)) It was Delicious and I didnt eat kebab for quite some time! That evening we had a beer and we basically shared more of our stories from the past year. One of the stories that really facinated me was that Leifur went to mongolia and went with the locals and a translator into oblivion. He got to experience traditional mongolian lifestyle, where you ride horses, live in yurts. eat the same boiled meat every evening, communicate with hand signs mostly or play games like, hitting a bone of the meat you just ate untill it cracks. where the mongolian people laugh at you if you boil some noodles because you dont like the meat, or how crazly happy they get if you bring some oranges or even a lollipop! Anyway. quite the text has been written again. here some boring pictures of Poznan square by day and night!
this church really reminded me of Vilnius,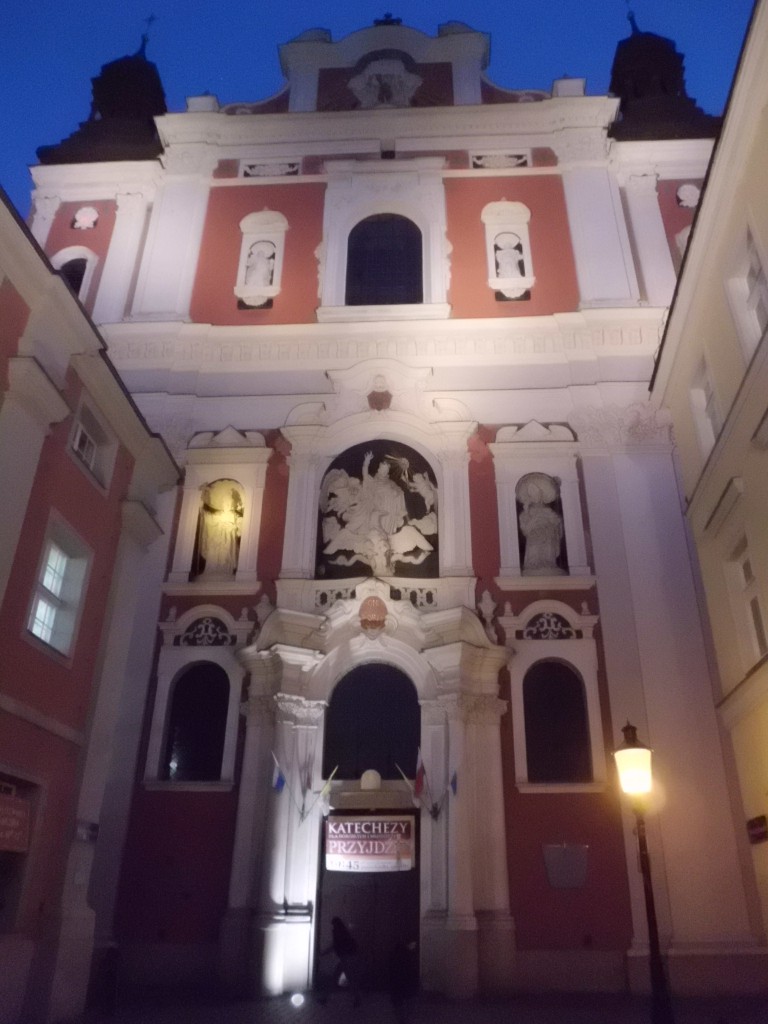 and some fancy 3D statue? quite cool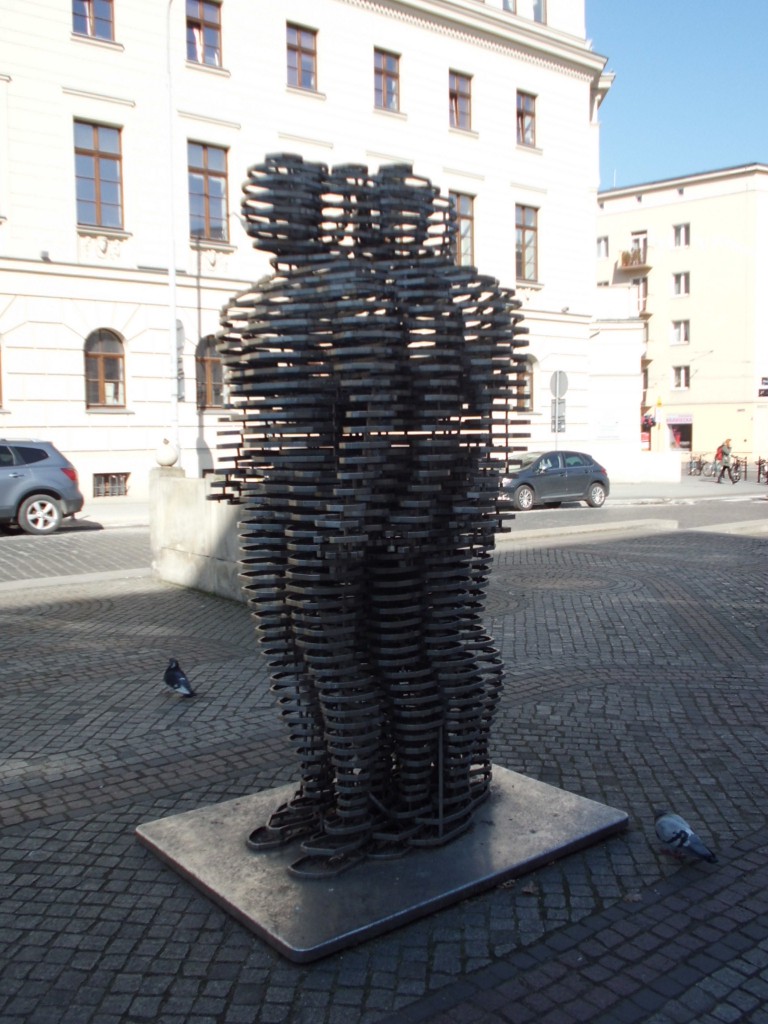 That night we got terrorized by some GIGANTIC snorlax. Really that shit was crazy. at some point in the night everybody in our dormatory was lying awake, even the people 2 rooms next to us could hear this dude Snore. Also the lady at the desk was really amazed. Some people left our room and tried to sleep in another (which was useless for the whole building could hear him) when eventually one guy got the guts to wake him up and tell him of the terror he was unleasing upon the hostel. Eventually it got les but not completely gone. I didnt have that much trouble with it honestly for i can sleep quite well in noisy locations. but luckily the dude left very early in the morning, making sleeping in very comfertable.
That morning I had a little walk through Poznan, when we eventually headed to Berlin. Liefur dropped me of in the Center of the Center of Berlin, where I waited for my brothers Bart and Joel to finish their work. But this story will be written later!