I have awoken from my winter sleep, yeah I know. I haven't been blogging much the past months, this obviously because i was sleeping! The truth is, winter wasn't so bad as i had expected it to be, there was allot of snow, ice and coldness, but it didn't get much below -10. we did some work on the inside of the house, a bit of claying and upgraded our fireplace. making plans for the kitchen etc. but mainly winter was a period of rest, eating and sleeping! To put the special occasions in a nutshell: I spend Christmas in Vilnius together with Rasute and she invited a friend of hers Aiste. we ate Traditional Lithuanian Christmas dinner. There are quite some Traditions involving Christmas, not gonna get into it in this post. but the main thing you should know. is that they prepare 12 non meat dishes, and everybody should eat at least a bit of every dish, we made them all our self's. and the 3 days after Christmas we ate from the same food we made for Christmas eve. It was awesome.
Due to the fact that Aiste is a wonderful woman, and she invited me to join her for New year in Kaunas, I spend new years eve in Kaunas. I initially intended to go to Vilnius, but i haven't been to Kaunas before and i figured it would be nice to get to know this city also. New year was quite the experience, for Lithuania was Covered in mist. We went to this mountain, which has a panorama view of Kaunas. but when the fireworks started we could only hear the Bangs as if WW3 just broke lose. We ended up running back to the Old town(or city center) where we managed to see a bit of fireworks, but visibility was very low. somewhat sad for i love fireworks and i didn't see shit really, we spend the rest of the night wandering around the city, checking out some river sides and raided every children playground we could find while not trying to break anything on the icey paths.
But back to Spring!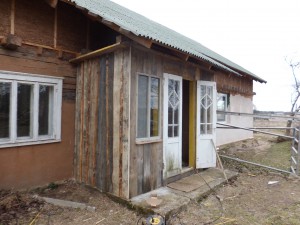 Whoohoo, Its here! snow disappeared some time ago and in the past 2 weeks we had quite some nice weather. Thus i was busy sawing planks again working on the front entrance of the house. last summer we cleared the old yellow planks, then build up the straw clay walls and finished them with a lime layer. now i'm making the roof bargeboards and adding planks to close it all up. the sides look like this now <-. the right side is closed till the roof, but i wont make more pictures until i finished both sides.
We burned through allot of the wood we had gathered this winter, we have some left for this summer. but we need to restock wood if we want to be able to survive next winter. so that's what Bas has been doing mostly, cutting down trees from our forest and moving them with the help of our Horse, were also scavenging wood from next to the road. for this time of year allot of trees gets cut or trees that got blown over due to winter winds, but they leave it laying besides the road. Which is such a waste, so then we take them instead. also, sooner or later the stairs to our first floor will be made. so Bas will use one or two trees to support our new stairs, therefor they have to be removed of bark and stocked somewhere to dry.
Against our expectations some of the limestone layers we applied last year, didn't have enough time to dry properly. also there was a period early winter where we had rain, then frost and snow. then it would melt and rain again, then frost etc. due to the weather the part of the walls low to the ground started to absorb allot of moisture, with the freezing and melting it started cracking. its a shame really. but due to these developments we decided to finish the house in a wooden layer similar to the front entrance. to save some time and be able to finishing the outside of the house this summer. to do this wood is needed, with our connections we bought a nice batch of wood, Pine wood to be exact. Freshly cut from the trees around our area and freshly sawn by the nearest sawmill. the truck dropped it with its crane, so we had to stack it properly so it can dry enough for us to be able to use it. I love the smell of fresh cut pine wood, its so sweet. also your hand get black and sticky due to the resin, which stay for about 2 or 3 days.
We stacked all the fine boards but there are lots of boards with mostly bark on them, (you get all of the tree you know) those aren't qualified to be used for the house, so we decided to use them to build a new floor for our firewood stacks. This winter there were quite some times when either rain or snow got blown onto our dried firewood. and it was really annoying. also the current floor was not leveled either, and those barky boards are strong enough to make a reasonable floor. so we started taking out the wood and constructing the new floor, then we gathered some old wood from previous years to make the sides. Now our firewood has enough cover not to get all soaked by a rainfall or snowstorm.
Friday 20/3 was the Solar Eclipse. we were working outside and enjoying the lovely weather, it didn't get dark here but we tried to check it out making a hole in cardboard and projecting it onto another piece of cardbord. which worked somewhat. i knew it for quite some time, but still i didn't prepare for it well enough to be able to look at it and see it happening. it was a nice afternoon anyway. and Aiste managed to make this picture of the eclipse!