Its da 4th of July, at the time I didn't realize this yet. but we took the car n headed to Vilnius to pick up a carpet and check the old town afterwards because Crayray didn't see Vilnius yet. It was crazy nice weather and a perfect day to do this. We parked da car at Ausras. She had a Visitor, A Couch-surfer that Hitchhiked from France with his accordion, we chilled for a bit. Mathieu had a gig that night in Cafe de Paris and invited us to join.
But First things first, Me n Crayray headed to da Old town, on the way we bought some Kibinai, basically Crayray didn't see or eat any of these things yet. so my quest was to introduce him to dem all. While eating Kibinai we headed towards the Cathedral Square, there was a big stage set up. with lots of dancing and singing. and lots of crazy clothes. It seemed it was Lithuanian Folklore day. And so Vilnius was crowded with People in Traditional Lithuanian clothes, food and thingssz!!.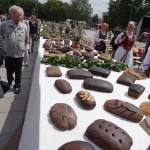 Infront of the Stage was a huge table, It had lots of Breadz on it and different notes. from what i have been told, the breads were from different regions of Lithuania, the smell around the table was amazing, and the breads were pretty fancy, not just a regular AH breadz you know. all these crazy shapes and decoration. colors and grainz
After checking dem Breadz we headed to the Gediminas castle hill whatever. in the park was a market, at first it seemed like an ordinary marked, but on closer inspection this market was the most amazing market I ever walked through. They sold the usual Freshly harvested honey, Home brewed alus, Lithuanian cheeshizzle, thee and lots of on the spot woven scarfs, clothes and Folklore things. But the most amazing thing about this market was the fact that there were also Woodworkers and blacksmiths selling there wares and showing their skillz. I really liked it.
after checking Gediminas castle we got little hungriez. We walked through Uzupis towards Artistai where we ate some Kepta douna awwwyeah! the parks we walked through were very crowded but very interesting. there were stages everywhere and people dancing and singing. All these Traditional Lithuanian clothes and crazy shizzle was going on everywhere. It was so awesome, I never saw so much people in Traditional clothes together.
One of our side quests of today was to check some used clothes shops and buy some stuff. I did small research before I left (actually Šarūnė advised me). but while walking through Vilnius we didn't feel like searching for them, some company is also fun so I gave Luka a call. Although she didn't had much time, she was up for some chillin and showin us the perfect places to check dem shizzle.
When she arrived it was completely crazy again. Die gekke Luka whaha helemaal leip is die chick. She started spamming us from the first moment and doing her Dutch jokes all da way. we walked around a bit. she showed us da shops, but mainly we had allot of fun, She was amazed how my Lithuanian got better, (I think I didn't see her for about a month) and that I know the way around Vilnius city center even better then she did lol. funny thing was. While we wanted to check Vilnius for dem used clothes. She and basically all her friends go to Moletai if they need clothes, cuz its much cheaper and better quality…. u get da point, we nvm da clothes.
She was throwing this party that night and she invited us to come. She had to prepare some shizznit. Our plan was to go back home due to we had the car. But she didn't like this idea and really insisted we would join dem. I told her maybe. but every time she would try even harder. We figured. you know what. if we have a Accordion gigz and a Lithuanian home party. dafuq yo. lets get fuckdup. I gave Ausra a call, although she already had a Couch-surfer me and Crayray could also sleep there. Now its on!
We walked back to Snisnipiskeszes (taip taip aš žinau) moved the car to a more secure place, grabbed our shizznit, and joined Ausra to the Barras alla Paris. we chilled some. Meanwhile me n Crayray got some dinner, when we came back after FR vs GER Mathieu started showing some skillz. it was awesome! he had very catchy accordion songs. he was singing with it in French and Spanish. he really tried to involve the crowd. Even lots of people walking by waited for a bit to watch. It started with a small crowd but later on more and more joined. it was really fun! In the end he played from 21:00 until something like 01:00.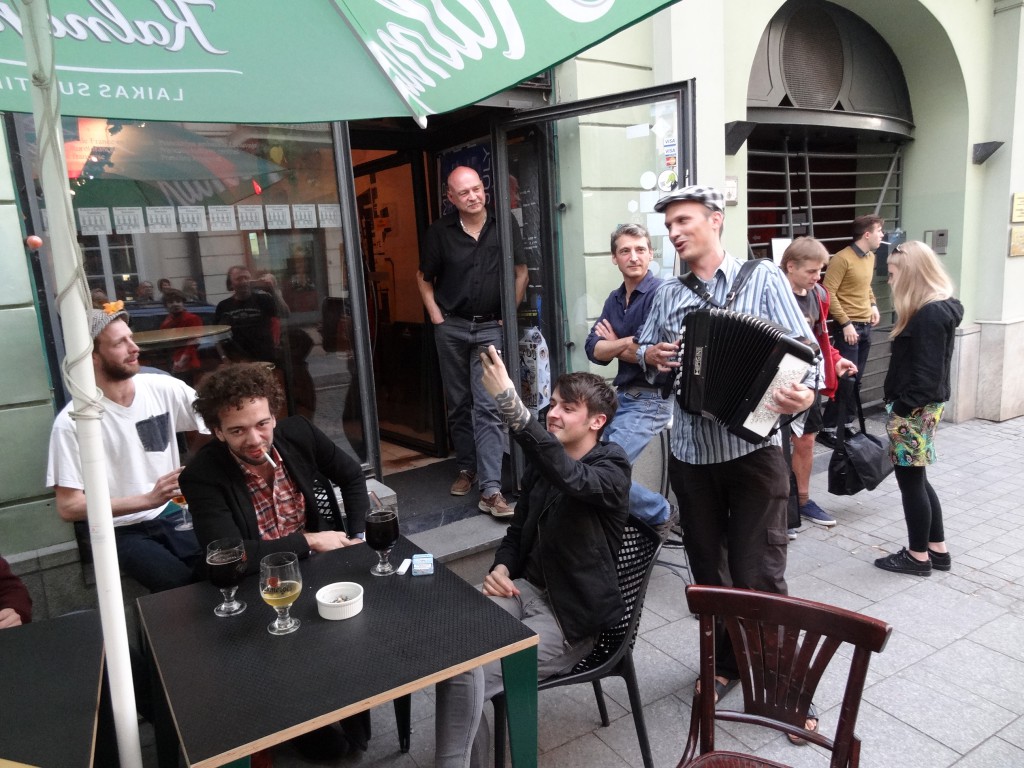 around 23:00 me n Crayray decided to check out luka her chillinz. basically it was around the corner. Luka told us she would have lots to eat n to drink n to smoke, But somewhere that afternoon we bought some benedictinas (which is in my opinion delicious honey Liqor) for the party anywayz. In the end we were lucky we did. because when we arrived the truth was, there was not so much to eat, to drink and to smoke :)))) not even a beer. This resulted in me and Creyray getting loessoee on dem benedictinas. Nobody there liked it anywayz gheghe. shizz is crazy. you bring a present. then nobody likes it and you end up drinking it yourself….. where I come from. it doesn't really matter what you bring. if its strong alcohol. it will be gone by the end of the night.
Besides that the chillin was chillin. There were allot of interesting conversations going on. we were nicknamed Da Dutchies after a bit the neighbour got all mad due to the sounds. so instead of talking very loud everybody started whispering :)))) I was rather amazed that this was actually possible. Because if I or anybody from my group of friends would throw a party at home and you would ask them to whisper. Shit would get even more crazy. Lithuanians though. there respectful people. and they simply whisper, Also luka her understanding of Dutch got better after she drank more. we spotted some UFO's and some chineese candles. When people got hungriez we started raiding her fridge and cabinets. basically she told us, what you can find you can have. So I took some Delicious Jam made by her grandmother :)))) (don't worry I did ask) and we ate some leftover pie. Later on dey started dancing, Dey be in like diz Dancin crew droppin dem moves yo. later that night when they were going to this DnB Party to drop some more moves. we Bailed, n joined Ausra back home.
Check it out, its dem Dancin crew. snap er niks van maar dit is gewoon die Litouwse Crib Walk jwz gheghe
The next morning we got to know Mathieus a bit more, He had some pretty amazing stories about his Hitchhiking. Basically he Hitchhiked through France and morocco in about 3 to 4 weeks. Without money and only his accordion and some clothes. He didn't bring money on purpose, cuz the truth is. you don't really need money. if you have something to offer (in this case songs from his accordion) people are kind and help you. also if you travel in the right time of the year there is lots of food to be found in the forests and nature around you. He really inspired me with his experiences. Basically his Vision on hitchhiking is. Stay happy, Stay clean And give as much as you can give. talk to people, and walk if necessary. Then everything is gonna be alright!
Also Ausra brought me some more Jams, way more then I expected but ah well. At least I have lots of different Jams to taste now And there all from parents or grandparents gardens, home made awesomenesss!! I cannot describe how delicious these Jams are. I'm probably never buying Supermarket Jam ever again. because these jams. These jams are heavenly!