The Day After GMD, Da 18th Of Mayz
Ausra can be a sleepyhead, I gues its mainly because the intense studying for hours n hours, and the lack of sleep here n there. but she asked me to wake her up in the morning. I usually rise to my senses more early in the morning. When I woke up I made shit loads of Noise using the bathroom and checking the kitchen for things. But this didn't really seem to wake her up. so I decided to do some Groceries and wake her up after.
I realized I forgot to buy some meatzies for the lasagne yesterday, there was no breadz and no eggzz. I ventured towards the nearby supermarkt (4 min walk) to find myself the needed groceries, when I came back making shit loads of sound again (Doors here are not exactly quiet) Ausra was still alseep…. I opened her laptop put on my favourit songs of Bonobo but this didn't wake her up either, When I broke the energy barrier of her room and opened the door she was instantly awake though.. hmmmm Interesting.
She made delicious breakfast again, we chilled for a vew hours and she showed how to Solve the Mystery of the Oven n told me that her roomate would probably be home later that day. Around the clock of 13:00 she went for the library and I were to meet up with Agne around 14:00. I met with Agne at the Statue of Gediminas at the Cathedral Square. The sun was shining bright, and I got thirsty from my walk there so we went to the Juice Room for some juice and da picture, there was still lots going on in Vilnius. We encountered these breakdancers and had a look for a while checking who would be most awesome, some of them were indeed very good The stage was free also. anybody could show some moves if they liked
We walked around Vilnius for a vew hours, next to the Vilna and the crazy mountain I climed before, Because Agne works for the government I had to ask about some political things and get to know her point of view, I asked about whats the deal with The N@to to see if her information would be similar to the brother n sister that gave me a ride in Poland N we talked about Western/Russian/Ukraine buizness.
(To put it in a nutshell, when I left my country I didn't like N@to at all. I heard crazy things about them n related them to the NW0 stuff like that. Ever since I left my country and got to know more about this from Polish n Lithuanian people the stories got very different. in short. most of the Eastern people I met until now are Very happy with the N@to presence, basically because its this pact of different countries who work together and protect them in case of crazy shit. also if I understood correctly some people here are scared of the Russian threat, with N@to presence showing they are here to help they feel more save) for the moment i have no opinion anymore, Yesterday there were Fighter Jets flying over and apparently the N@to had this showcase where they would drive with their tanks and shit through Vilnius, Military power doesn't impress me though and i missed it due to the Djembe's.
I will keep asking around though, Not that I will ever find the truth, learning more and more is always better then ignoring it completely. Besides I think its still Interesting to see the difference in stories and opinions in every country.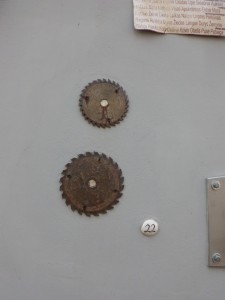 We moved on, we came through this street where they honor most famous artist (like art and poetry) on a wall, I didn't know any of them. Agne knew a vew and told me some history, I liked this one because of the Sawblades gheghe, but everyone had a different thing. it was very amusing. She showed me the old parlament building if recall correct where she worked, we passed a Traditional Lithuanian store where I bought some Apple-cheese (yes indeed, very weird stuff but very delicious) we passed some awesome "used" books store, her current work and lots moar!!
around 16:00 she headed for her aunt, I figured ill chill in a park a bit n think what I would do for the rest of the day. I headed towards the White bridge, which was close to the Green bridge, Agne told me there was this nice platform with a great view. When I arrived I wanted to take a little nap, the sun was very high in the sky though, and I didn't wanna burn my face. When I noticed this little Car-stall that sold these Delicious Trakai breadz, I figured: time for snack! I headed to the little Car-stall, it didn't have English on the menu :( but there were some people in front of me, they spoke English. I asked in general to them all if this stall also sold the sweet breadz with Strawberry or cherries in it, but this was not the case. I was in doubt if I should take the Traditional lambs bread thingy, or something else, I went for something sweet instead. Suuuweeeett!
I got into a conversation with the dudes n a lady, The lady had Very nice Dreadz and she was walking Bare feet. Her name was Rasa, one of the dudes was a friend of her who was named Kazimieras, The other dude apparently was from India, his name was Suva and he played his gig yesterday at the bookstore Agne showed me.
Once again I have a nice example why I think Coincidence doesn't exists. I told them about my Travelz and the idea behind it. When i got to the point of the "Eco Project" the most amazing thing ever happened, Kazimieras is planning on buying a plot of land 40KM from Vilnius with some friends, start his own Eco-ish project. But mainly, he wants to build Straw/Clay houses. they don't have very much experience with this yet. But you can imagine why this was not a Coincidence, because they can learn all about that here at Izreal/from the Izreal website and they are welcome to come check out how we do whenever they feel like it. He was very Interested.
Rasa asked what I had for plans, I told her that I did not have any plans, except for walking around a bit n making that Lasagne when I got hungriez. Rasa invited Me to join Them! They were heading to the supermarket to buy some stuff and then head to Užupis (The place with the Constitution) which was the opposite direction of where I had to go, But nevertheless I joined them for a bit. We had some very nice chats about the Eco Projects. Rasa took us to her home for a cup of Tea, Here we shared contact information, blogz, stuff about Straw/clay building. Even Suva had most amazing information for me. In the future I might wanna head north to Scandinavia. he knew some nice places and Eco Projects that I can visit there. He also gave me the names of the most important and influential people that I should contact.
After the tea they were to take the Car to Užupis, Rasa didn't agree at first. She wanted to walk Bare feet to Užupis. But Kazimieras told her she could sit Bare Feet in the car ghegheghe. much fun were had.
I walked back "Home" Ausra her roommate also named Ruta wasn't home yet. so I just chilled a bit and used her laptop. Eventually I started with the Lasagne, when I put it in the Mystery Oven Ruta came home. We had a very interesting chat about stuff, For example. Ruta rather works 5 days a week from 8 till 5 and pay the rent for her flat, then having to pick weeds everyday or Cherry's from Cherry trees all day and live on a big peace of land with allot of freedom. She had to do this when she was young and lived like this. Our opinions about freedom and life were very different, But luckily it are just opinions, and we had a great time chillin together. She loved my Lasagne, and so did Ausra when she came home late that night. I think it was one of the Best lasagnes i ever made, The ingredients here//the Magical Oven made it Perfect!
The next morning Ausra left for Trakai rather early, I was able to join her, but she had to do some stuff for her exams. So instead I Invited her to join me to Trakai after the exams.
Ruta also had stuff to do, but I was able to chill with her for a short time when I woke up.
Because I loved the jammies so much, and Ausra n Ruta eat like 2 pots a year. they told me I could bring some with me. Maybe if I'm lucky they will even get me more in the near future :D Delicious Jammiessss!! I will trade them for Dandelion Sirup which I will be making myself fo funz n tradez.
I sealed there apartment, hide the keys on a Secret location and started walking to the Rendezvous point where I shoulda meet Basz. On my way walking to the Rendezvous point, I suddenly hear all this honking and crazy sounds. Yup it was Basz who drove right next to me, he saw me walking and told me I was not exactly someone you would not notice, (apparently) this was nice, a 30 min walk to Rendezvous point became a 5 min walk until random Gangster Drive-by Pickup occurred.
It was an Amazing weekend once again, Vilnius is Awesome!