Its Tuesday 22 April. I slept very well, and felt all recharged. although i slept in the hotel the day before. Hitchhiking requires mental silence Imo. and can be very tough due to: you never know whats next sometimes you are stuck at a Gasz station for a vew hours, n your senses absorb so much more then u usually do. I feel much more tired some times next to the road then when i would go to work all day.
But nevertheless i woke up around 09:00, Slawek the name of the dude that hosted me had to go to work, I asked him the night before to wake me up. My plan was to wander around Warszawa and check it out, untill now. All the lovely polish people i spoke to advised me to take the bus and the train while checking out Warszawa due to its size.
But i prefer walking over public transport so i decided to walk my way like i would in Amsterdam. It was really funny tho. cuz you know. I'm in this big city. never been here before. cant read shit. so basically this happened.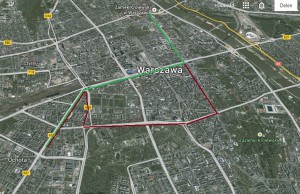 The green line is the line I imagined walking to Centrum and the old town which I really wanted to see. I ended up walking the Red line due to not realizing the Roundabouts are crazy huge here. I wasn't paying much attention to where i was going, just followed my feeling. So much to see, also where i imagined a big street like my new map showed me. All streets are big here. Eventually i realized i was walking south again I checked the map, and re-planned my route. I had no hurry and i enjoyed my Detour. Also if it wasn't for my Detour i would have never found this amazing tree which made me laugh so bad. (Yes that is the biking lane on the left and walking area on the right..)
So imagine i was walking/sightseeing for a vew hours before i finally got to the point where Green and Red meet. at that point i was at Centrum. and Centrum had this very awesome building given to Warszawa from Stalin. Palace du Cultura or something.
Palace Building / Random park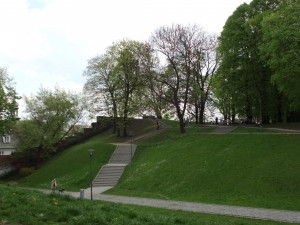 From the Palace I walked towards Nowy Swiat, this is the most expensive street in Warszawa and would lead me right to the old town which was still my destination for today. On the way to Nowy Swiat I found some Juice bar, and got myself some Delicious freshly squeezed Banana/Strawberry/Orange/kiwi something juice. oww so delicious. Walking through Nowy Swiat I got really attracted to a building in a side street. when i went for it, it had this nice park next to it. where i chilled for a bit. (see up)
I started moving towards the old town again, on the way i found the most amazing square that i could have ever imagined. At first I just saw some circles on the ground. thought it was art. but soon i Realized it was our solar system made into the Square (its actually a round square) and for ppl that know me better, you can imagine i was all amazed. the planets contained their names in English polish and some other language. i didn't photograph them all but i haz a vew to give you an idea.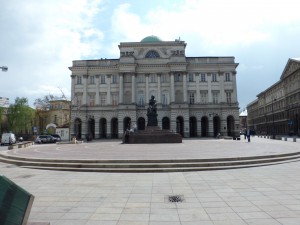 After chillin here for a while and feelin the energy of the round Square infused with our solar system, I started walking to the old town. I was really close! finally arriving there I again was amazed by the beauty of this place in the middle of Warszawa. you should imagine that basically everything in Warszawa was destroyed in WWII, everything you see today was either renovated or rebuild after the war. the Jewish ghetto pictures will come. but for now its just Beauty and awesomeness!
After walking through the old town n being the tourist, my legs got lil tired again (i would say its about 14:00 now and i have been walking since 10:00 with the told breaks at the park/solar system). I decided to take a chill at the Wisla. the river that flows through Warszawa. Soon after I got hungry and I started looking for some Traditional polish soup called something like Barszcz, which basically is Red beetroot soup with some dough filled meat thingy next to it. It was really delicious, i felt like vampire. Bloood nomnom, FYI. i didn't know what Red beet was in polish. so on my way to find Barszcz I went inside supermarket to find a Red beet and see what the sign said. this was very helpful asking on the street where i could find this traditional dish now i knew what it was called in polish.
Its just before dinnertime and i figured i should slowly make my way back to my couch,
with my belly stuffed from this amazing soup, which seems like a lil bit, it actually filled me right up!. Checking the map, I noticed a vew parks on the way. fuckyeah!!! parks!!! i made my way to the first one south/west of the old town.
Parks here are very beautiful, not only are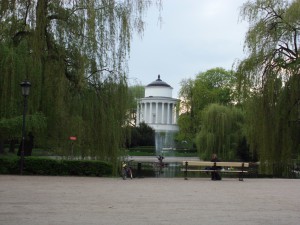 there lots and lots of them, they are all different and awesome. some lady's were playing jeu de boulle, it has been a while since i saw anybody play this in a park. so i took the bench next to them and started watching their game for a while. A bit later Piotr (gheghe yes this is another Peter the son of Slawek) called me, he asked me if i felt like chillin with him, he wanted to show me some stuff. but first we had to meet up. i explained what park i was chillin in, and our meeting point was a fountain that i did not yet check.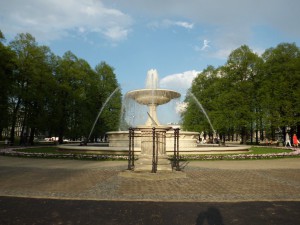 This park was even more amazing then i thought. The fountain was huge, and it also had a solar clock next to it. flowers, statues and beautiful ppl. Also the park structure and the fountain were all oriented with the wind directions. The water shooting up the fountain point North/East/South/West. I found out later from Pio why. This garden was used to be the Garden of the Royal palace of Warszawa. but of course the palace got completely destroyed, only a small portion of the palace is left. Its now a memorial with a fire that burnsz ALLWAYS, and 2 guards guarding the fire who stay there ALLWAYS, they switch every hour.
After some history lesson from Pio he took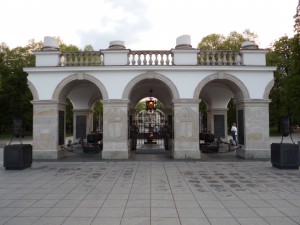 me with the car to the Jewish Ghetto and some abandoned military complex, which now is a free park where you can chill in. The bunkers are used by graffiti artist to do their thang, and probably for crazy ppl to have sex in and do drug. judging by the stuff that was laying inside. But well. it was fun to see n maybe a bit creepy to walk through these dark bunkers (we haz no light)
The Jewish Ghetto was also very interesting, i have never seen buildings like that. It was all fuckdup and bullet-holes still in the walls. weird ppl hanging around them, it really felt Ghetto-ish. around the Jewish Ghetto were allot of communist flats. build after the war to give as much ppl a home as fast as possible. i haz no picture. just imagine a huge white building with square windows, very symmetric. all the same. buildings they could build fast and cheap. to give as much peepz as fast as possible a roof over their head. (think of something like this)
Up here Jewish ghetto buildings (the last one is a very nice example of old buildings they don't give a fuck about. And new building build at the street parallel to it which are rather fancy looking and new.
Below pictures of the abandoned military complex where peepz are free to go to. You can legally make fire here (you can do this everywhere in poland afaik), chill. cross your bike. and do whatever you like.
that night we took Chinese. This plate you can buy for like 3 euroz. it was really delicious and it was a huge plate. Also. beer here in Poland. Its crazy. you can't buy regular Heineken bottles like we are used to in The Netherlands. if you buy a beer here you get a half a liter bottle like here. it was really good also. when you chill at a restaurant or bar. you also get half a liter glasses with beer. its crazzyyyy! also note. its like super cheap.
In a nutshell. I love Warszawa. its so beautiful, the polish ppl here a so friendly, and the girls here are very attractive. I think the dutch lady's can learn allot of Eastern lady's. I'm not sure how i can explain this further. I think ppl who have been here know exactly what I'm talking about. if you do not. Go visit Warszawa sometime ghegheghe.
The next day was quite the crazy day. we went to visit more abandoned buildings, after that the Warszawa Uprising museum, in the evening Kings Garden. but damn, what happend that day is something i wont likely forget anytime soon.