All of the sudden I realized, I didn't even show ya all the Workbench I finished a vew weeks ago, So I will Dedicate this posts to some random thingz I have been doing in the past 2 weeks
To begin with, I started on the workbench. After finishing the yurt n clayying some dayZ, due to the Rainy weatherz after the weekend, the progress on the workbench was put to hold for a while. For I think it is better to use dry wood/saw dem planks outside in da sunny, nevertheless I finished it eventually about 1 week later, cleaning the shed and organizing the Tools we have.
Here you can see the progress on cutting the planks. I first gathered some nice rough planks. Then I would cut 1 side of the plank straight, from there measure it n eventually you will have a nice wooden board to use for the Workbench surface
Behold, the progression of the workbench below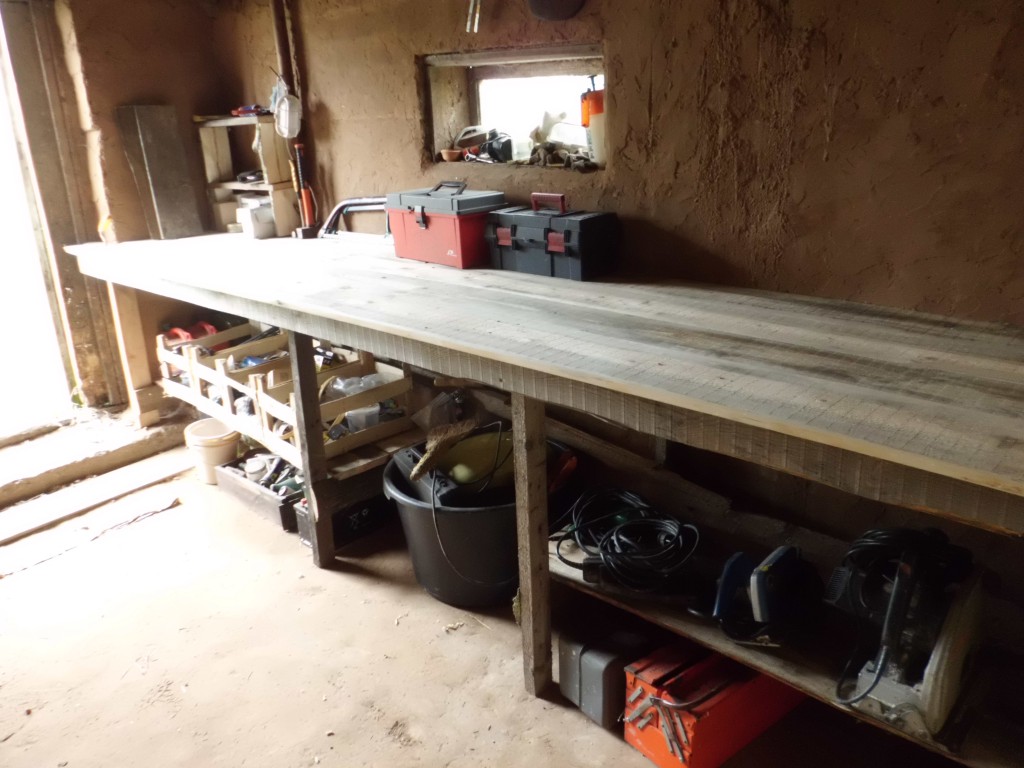 Due to cooking on wood, you cant just grab yo panz and start cooking, you need to prepare a vew things before you start. Like chopping sum wood, depending if you wanna cook outside or inside you need to make the peaces small enough to fit the stove, this will give you an idea of this daily process
Last Wednesday Basz left for The Netherlands, at the moment its just me and Chris here at the "eco villagezz" At first I wanted to join him to surprise some peepz back home, but eventually this didn't work out cuz Chris didn't feel like staying here alone, so I have been spending time on clayying da house, helping her in the garden n chopping wood
Once in a while we need to add sum Straw around the raised beds, Chris didn't like this work so much and rather picked weeds. so I covered the land wit sum straw for her
Young dude Dolan had a farm,
and he did Eco grow,
And on that farm he had sum veggz,
No, no, GMO!
Veggie here, Veggie there,
Eco Eco Eco, no Roundup just Ecoo!!
herpa derpa, hurka durka.
—————————————————————
Alright, now lets get back to seriousz buizneszz.
I have been checking out da full moon a bit back, my camera sux to much for an awesome picture, but you get the point,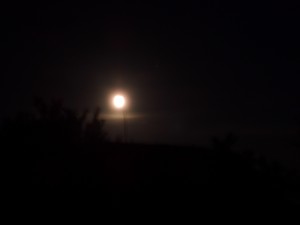 Choppin wood is also necessary, there is allot of dried wood under this roof, but it should be cut into small peaces so it fits the Rocket-stove outside, then we store it in some building nearby. To get to the room we store the wood, you first have to go through the Witchcraft chamber, where we practice some of our secret shizzle.
I cannot go into detail because its very secret
Inorite, the stack is still rather small. that's because I just started.
Last night there was this Meteor shower hitting Da Erth, It would be visible around the Polar star area between 00:00 and 04:00, i tried to check some previous meteor showers back in The Netherlands, but this never really worked out. mostly due to light pollution n cloudy weather,
This time we got very prepared thought to check out them meteor shower,
There was not even 1 cloud in the sky, and it seemed this was gonna work out!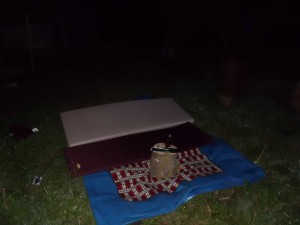 We chilled from 00:30 till 03:30 when the peak would hit Da Erth,
Because we are more North-East here then The Netherlands, it didn't got completely dark, basically the Sun wanders the horizon all night, so it will stay a little light all night, due to this fact we were not able to see most of the Meteor shower,
We did see about 7 satellites flying by though, and although Chris did manage to see some of the meteor shower. usually when she was LOOK THERE ON THE LEFT. I was looking to the right side of the sky, and so on.
ah well. Satellites are fine to,
It was rather chillin to stare at the sky in silence,
watching the stars that night was the first time since I left NL that I really missed that fact that I was not able to light up a Super Dikke Jonko :(
It started to get very bright again, the sun here starts to rise around 03:30, also some clouds were passing by around that time, so that's when we went to get sum sleep. Here the sun will be visible above the horizon between 05:00 n 06:00, around 22:00 its still daytime bright, then it starts to get little darker. indeed very long days and short nights in summer.
The clayying of the outside wall has been going well, I also worked on the window frames.
to give you an impression how this works check below. A layer of clay will come over the green stuff,on the window ledge wont be clay, but the Lime shizzle will come straight over it.
and that's basically most of the stuff that has been going on here lately.
I would also like to share some of these pictures.
Enjoy