Today is the 21 of June, another festival takes over Vilnius streetsz, This time its all about Herbsz n Spicez.
Afrikos būgnų would play again today, Gediminas invited me to come check them out. I Renevouz with Šarūnė at the gigz. I just woke up like 1 hour before the gig, It was a perfect waking up Concert!! Šarūnė didn't see Afrikos būgnų that much yet, Yesterday she came to the park also but she had some food somewhere behind the crowd and didn't experience much. this was her first time checking dem Front row seats!! She liked it very much!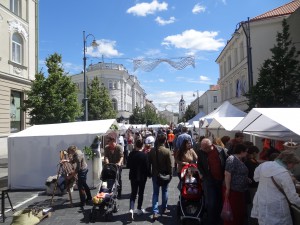 After the gigz we went to chill with the group, figured they would go into Vilnius but they had another gig right after, like a private gigz. so instead Šarūnė n me went to find some breakfast, we passed through this market, Tasting all the free tea we could, and on the way we found some Trakai Kibinai, Apple Azijn this time. It was a very nice breakfast. I have been scouting Vilnius for a bit now and at first we didn't know for sure what to do, but in the end Šarūnė had nice inspiration.
She took me to the University of Vilnius, (which is where she and Ausra studied) she told me they have this super awesome hall, which is still in the original style with paintings and all. It was Sunday but the University was open anywayz, she told me some tales about the hall, for example. the roof has Squares in it, and every square would represent a Season. it was one painter who painted the complete room, and he hid allot of things in it. he also painted the world tree (or atleast his impression of it) people in the Red would be working, and People in the green background would be having fun. Blue were season related, stuff like that
Can you imagine this is like a random hall/room in their university? for me its like wauw. in breaks students like chill here or work here and shizznit you know. its pretty amazing!
There was also this Sheep figure painted on one of the walls, Šarūnė explained me the meaning behind it. The sheep is to represent the Ruling El!te who try to herd the General population as sheeple. They see us as the herd of sheep they have to control. but this painter saw it the other way around and represented them as dem sheep. in which you get this hatted sheep.
After walking through the Universities courtyards and checking their gardens we ended up at the Bel tower, which rings his bells once in a while, its also conected to the University complex. The elevator was broken. but you could have this very nice Panorama view of Vilnius on top. Šarūnė is a sportzy girl, so we climbed some stairs Awww Yeah!!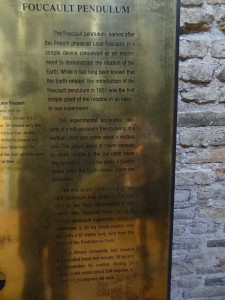 After climbing the first 2 stairs there was this Pendulum, I can describe what it does. but I made a picture of the Text Eh. so you can just read it yourself.
But in a nutshell:
An experiment to show that the Erth turns around his axis, The idea is that the Pendulum goes from left to right, the Erth underneath rotates, from which the pendulum goes North to West in midday, and East to West at night.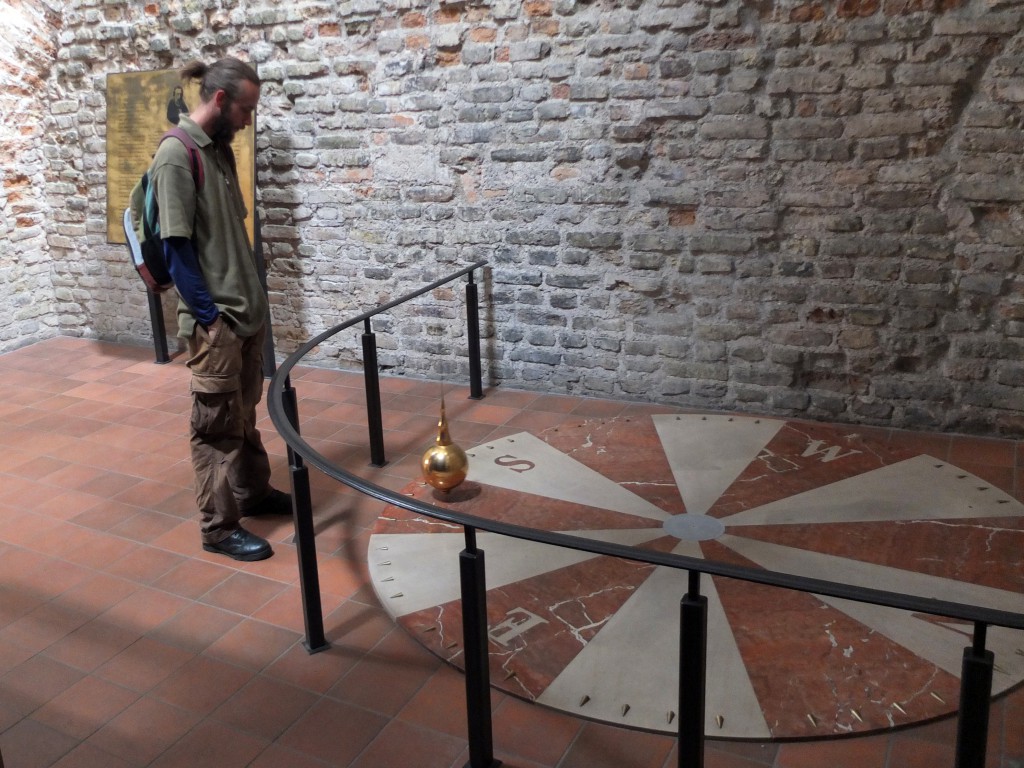 We headed to the top to check out the Panorama, It was very nice to see Vilnius from up high, I could recognize allot of buildings and locations, which was rather amusing for me. Also I haz dem new cameraz, with Panorama possibulatiez, Not a Pro yet though :( but good enough!
My Guide for the day didn't have anything in mind to do next, but it was not a problem. we went down the super tiny stairs, walked through the University a bit more. when we went outside we arrived at a Governmental building (the building where Napoleon slept) There was some sort of Artzies Expedition, it was free and Šarūnė never actually went inside the Garden. so we decided to check it out. We had to go through some security, checking for metal and u bagz. but nothings special. of course I beeped. I always do. but they were not threaten it seemed. and we could go in,
There were not much people inside, we encountered like 1 dude but he went out when we went in, it was very simple art, Clay art but also some stone, like this abstract thing or figure and with a little sign on it. we had a good chat and tried to Gues what the sculpture was before actually reading the Plate, this worked a vew times! Much funz were had!
After the Expedition we got hungriez again, we figured, Lets get a beer and a Kepta Duona. For some reason we ended up buying Pie and chocolat milk, and chilled in a park to enjoy this freshly baked sweetnesz! :)))) much funzies were had once again!
After our Delicious Apple/Cherry pie lunch we headed home, Ausra was still shoppin with her family, Me n Šarūnė played a game of chess, introduced eachother to some new music, we found out while walking that we have a pretty common taste in music. The plan was to make some Kepta Duona and Šaltibarščiai. Finaly I will learn how to make these two Traditional Lithuanian recipes!!!
when Ausra came home she was not that hungry yet, but eventually we started on the dinner. It was very fun to make. Super EZ but most of all Super Delicious! If you would like me to explain the process of making Kepta Duona and Šaltibarščiai in detail: Check it out!